Uber Scores, Pelosi Touches Down | The Daily Peel | 8/3/22
Stonks led off the day lower on recession fears and rising China tensions amidst Speaker Pelosi's rumored trip to Taiwan. The 10-year yield moved significantly higher yesterday, up around 2.75%. Bill Ackman is grumbling again, but this time for the Children. WTI Crude closed just shy of $95 as gas prices continue to slide at one of the fastest rates in decades.
At the closing bell, markets were at session lows, with all sectors in the negative; the Dow was down 1.22%, the Nasdaq lost just 0.16%, and the S&P lost 0.66%.
We're excited to announce WSO has partnered with Bloomberg Exam Prep to offer a whopping 100 'naners off regular GMAT prep plans. For this application cycle only, use their prep technology to crush the GMAT. Get the score you need to set your application apart. Use this link
Let's get into it.
Yesterday - Your last good ping-pong ball fell down into a narrow metal pipe embedded in concrete one foot deep. How can you get it out undamaged if all the tools you have are your tennis paddle, your shoe laces, and your plastic water bottle?
All the tools are random things that are not going to help you. All you have to do is pour some water into the pipe so that the ball swims up on the surface. And if you say that you don't have any water, then think about what you drank today and if you can use that somehow. :)
Today - It's 30 days of access to our WSO Corporate Database for the first 20 correct respondents. LFG!
A purple house is made from purple bricks. A black house is made from black bricks. A white house is made from white bricks. What is a greenhouse made from?
Shoot us your guesses at [email protected] with the subject line "Banana Brain Teaser" or simply click here to reply!
Cooling Jobs Market - The Department of Labor reported that the number of job openings currently in the labor market is at its lowest level since September.
Usually, one would argue that almost a 12-month backslide in the number of open jobs is a sign of a cooling jobs market. However, that's probably not completely true. There are still 10.7 million open positions in the American economy.
It's kind of like saying that since there is increased inventory in the housing market, the great housing bull run of the last two years is over. That's categorically false.
The labor market is still pretty tight. When it comes to the number of job seekers, there are almost 6 million Americans looking for work. There are almost two jobs available for each of them.
I've said this before: it's pretty hard to have a deep, dark recession when there are this many open jobs out there. Buuut enter Daddy JPow. He isn't necessarily coming for your job. But I do think he's coming for a lot of these open jobs.
He is quoted as attributing much of the economy's current strength to a labor market in which almost 3 million people were hired earlier this year. That's not a sign of a sputtering economy.
But an excessively tight labor market can introduce inflationary pressure into the economy. That's why JPow and his band of merry people are coming for these open jobs.
Inflation will taper and in much more of a hurry if the economy slows enough to eliminate some of these open jobs while not slamming on the breaks of an economy that some people think otherwise is chugging along.
Will it be harder to get a job if this happens? I'm not sure that question is broadly applicable. We might start to see more hiring freezes aside from just big tech names, and that will make certain types of jobs more challenging to land.
If you have a solid resume and applicable skills, I wouldn't worry all too much for the time being. But if things get bad, the job market will follow suit.
The Best Way to Prep for the GMAT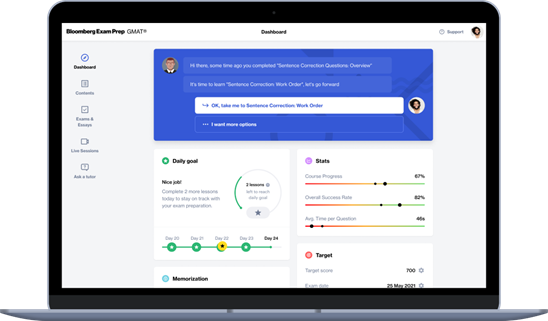 We're excited to announce WSO has partnered with Bloomberg Exam Prep to offer a whopping 100 'nanners off regular GMAT prep plans. For this application cycle only, get the score you need to secure your seat at a T20 or even a Magnificent 7 MBA program.
The admissions process is rigorous & highly competitive. Set yourself apart with a prep plan to master the entire exam curriculum. Leverage adaptive learning technology, premium content and one-on-one tutoring to earn your best score, guaranteed.
Uber ($UBER) - Finally, Uber has pivoted towards the environment that is the reality in which we live. Their free cash flow numbers are finally at a level that the Street absolutely loved after their earnings call.
Revenues also beat analysts' estimates, a sign of a return towards normal operations following basically a pandemic packed with anti-ride sharing sentiments.
On earnings news, $UBER ripped higher by 18.90%.
Pinterest ($PINS) - Shares of the online platform soared on Tuesday, even after top and bottom line misses on Aug 1st.
The reason: user numbers are through the roof, and activist hedge fund Elliot Management has pledged its love for the brand and its new CEO.
Shares of $PINS ripped yesterday, closing up 11.56%.
Molson Coors ($TAP) - Molson Coors declared its quarterly earnings, and the news was not well received by investors.
Sure, sales were down half a percent compared to last quarter, but that's not the reason why the stock cratered yesterday.
The brewer is having its lunch eaten by smaller, craft breweries and rising commodity costs. These challenges chopped their bottom line number by 88%.
On poor earnings, shares of $TAP fell 10.46%.
Caterpillar Inc ($CAT) - Shares of $CAT fell 5.86% yesterday, and as a Dow component, this weighed heavily on the overall index.
Caterpillar makes machinery and engines that are used in construction all over the world. This is by nature cyclical, and as the economy slows, so will $CAT's business. While they did experience consistent North American demand, they did note that the rest of the world appears to be slowing down.
The numbers actually weren't that bad this quarter; they barely missed on revenues and actually beat bottom line expectations. However, a softening global economy and associated guidance saying just that sent shares lower.
The Dog Days of Summer - Here we are, smack dab in the Dog Days of Summer.
For those of you unfamiliar with this terminology, the dog days run from early July until about mid-August. This year, the star system Sirius' rising runs from Jul 3rd until Aug 11th. These dog days were typically linked with hot, sultry weather.
This is also typically a slower time of year in the office. Many people take vacation days in July and early August, trying to sneak in that bender on a trip to Mykonos or get some downtime on a weekender in Napa.
This is a good time of year for families, as school is typically still out of session for summer break and demands on parents at work are less stringent.
Think about stonks. There is at least an inkling of a feeling that equities markets are less volatile in the summer. Fridays during the dog days tend to have some of the lowest trading volumes compared to any other time of the year.
While some of us are in coast mode, others are still out there hustling. If you're an entrepreneur, you don't get a chance to take time off often. The summer is hard because people you're trying to contact to conduct business are unavailable… because they're out enjoying the summer on their vacations.
If you're a student, this time of year is when your summer away from the classroom is wrapping up. It's a great time to relax before really hitting the books.
If you're an intern, your time at your internship is wrapping up; it's time to prep to return to everyday life and hope that you impressed enough people to garner a return offer.
Labor Day weekend, the unofficial end of summer, is right around the corner. As we get closer, it's a good time to ask ourselves: are we ready to pick up the pace?
"We ignore outlooks and forecasts… we're lousy at it and we admit it … everyone else is lousy too, but most people won't admit it." - Martin Whitman