Private Equity Compensation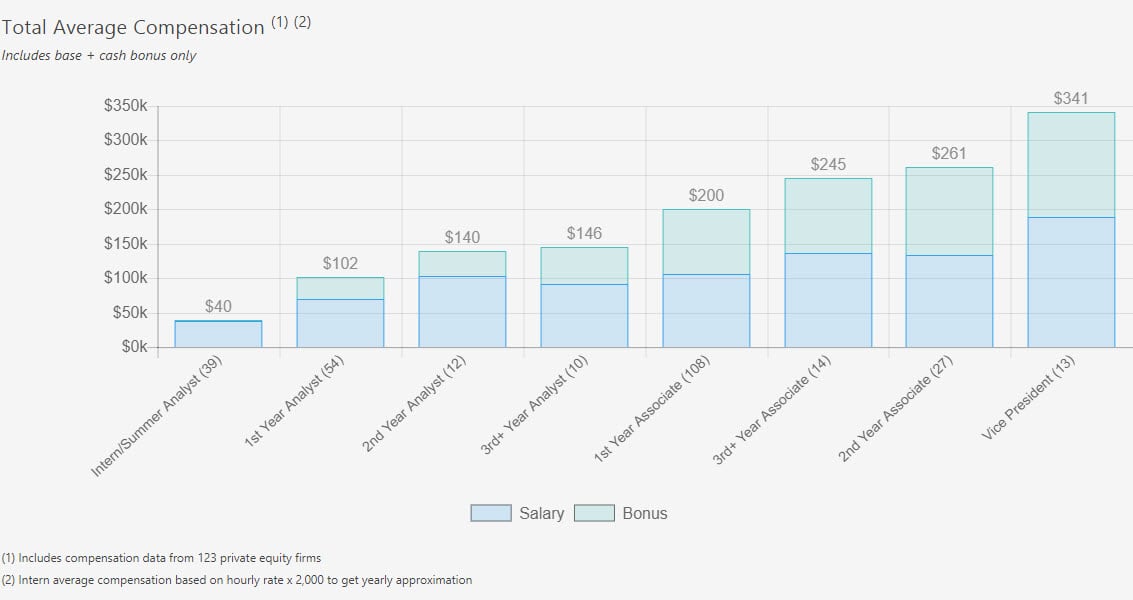 Full Private Equity Industry Report


The table above is an example of the private equity salaries and bonuses at various levels of seniority you can gain across hundreds of PE companies in the WSO Company Database. For a big edge tackling tough
private equity interview questions
, check out the WSO PE interview guide. From pre-MBA associates to managing directors, private equity pay is traditionally heavily weighted toward the bonus portion as well as carry. Carry or "carried interest" represents the percentage of the upside return that the senior private equity professionals get to keep in the case where returns exceed a certain threshold.
Let's quickly run through an example to explain how carry works and why it can be such a large portion of the compensation at PE funds.

1. Assume carry is 20% for a certain fund that has raised $1 billion (the most common level). 2. Assume things go well and the investment professionals of that fund double the "value" of the fund through smart acquisitions and exits, so now they have returned $2 billion to their limited partners (LPs). 3. The PE fund is entitled to 20% of that incremental $1 billion of value they helped create for the LPs. In other words, a whopping $200 million (if this fund only has 20-30 investment professionals, the guys at the top that own a majority of it can make a significant windfall if their funds perform).
In practice, the exact amount that the carry portion is worth will depend on the amount of time it takes to generate returns over and above some hurdle rate (like an 8% annual return), so it's more complicated, but you get the idea.
At the pre-MBA associate level, hours are usually slightly better than an investment banking analyst, except at some PE mega funds. Most pre-MBA associates start after two years in investment banking or consulting and receive their first private equity bonus around June to July, approximately one year after they start working. It is rare for pre-MBA associates to receive carry, but it does happen on occasion.
The private equity compensation for Vice Presidents, Directors, and Managing Directors is much more variable at PE firms, but the salary and bonus is usually much more of a function of the fund's performance since a lot of the compensation is tied up in carry.
See below for an estimated range of current private equity salaries.
Private Equity Compensation:
Analyst/Associate - First Year: $130K - $250K
Analyst/Associate - Second Year: $150K - $300K
Analyst/Associate - Third Year +: $170K - $350K
Vice President: $300K - $800K
Managing Director/Partner: $500K - $10MM+
(Again, please note that, at the higher levels, private equity compensation comes with carried interest, which is directly related to your firm's profitability and may result in a large payout.)
These private equity salary figures are an approximation and rough range based on the user registration data on Wall Street Oasis as well as the thousands of discussions on PE compensation that the community has had at these levels.
Interested in Private Equity - Here's What You Need to Break In
Private equity is recruiting is ten times more cut-throat than anything you've ever experienced before. If you want to break into private equity, you need to be well-practiced in the technical aspects of the interview. The package is worth well more than the $299 price; the job prospects you set yourself up for are worth far more than $299.
---
Curious about compensation at specific companies like the chart above? Check out our WSO Company Database.Curious about private equity salary data at specific companies? Check out our WSO Company Database. To prepare for private equity interview questions, check out the WSO PE Prep Pack.