Having phone interviews but nothing else

Points)
on 7/27/12 at 11:00pm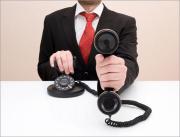 Okay, so within the past month I have had 3 phone interviews and next week I have another 2 phone interviews.
All of these positions are related to my background such as finance and retail. These are entry level types positions requiring around 1-2 yrs experience.
I paid a professional to overhaul my resume and to write a cover letter. This has given me a boost, but my concern is that I am only getting phone interviews and I am not moving on to the next stage of the process. I don't know what I am doing wrong?
I answer all the interviewers questions well by giving supporting facts and relating it to my previous experience. They give me feedback by saying that's a good response. I ask intelligent questions during the end of the phone interview, and everything seems okay. Several hours later, I write a thank you email to the interviewer.
I research the company, prepare my answers, read interview tips, I do the best that I possibly can, and still no success. This is demoralizing and I'm persistent, but I don't know what else I can do.
Have you gone through this process? What have you changed or done to move onto the next stage of the process?
Thanks Monkeys!
No contract means I have all the power. They want me, but they can't have me. - Don Draper