Management Consulting Salary & Compensation, Average Bonus in Consulting
Below is an estimate of all-in consulting compensation progression. This list has been compiled with information from WSO, Quora, and more in order to present the most accurate figures possible. In addition to salary information, it contains expected years out of undergrad/MBA at each position.
Analyst (1-3 years out of undergrad): $65K - $100K
Associate (1-2 years out of MBA): $170K - $200K
Project Leader (3-4 years out of MBA): $200K - $230K
Associate Partner/Associate Principal (5-7 years out of MBA): $250K - $400K
Partner/Principal (8+ years out of MBA): $500K - $1M
Senior Partner/Director (10+ years out of MBA): $1M+
Below is a chart depicting average compensation from 122 consulting firms. Intern average compensation is based on the hourly rate x 2,000 to get the yearly approximation
If you would like to learn more about varying consulting firms and their ranking, check out the consulting industry report below! This report details everything from hardest interviewers to ranking competence of senior management!
Management Consulting Compensation vs Finance Compensation
So how does management consultant compensation stack up against the finance industry? The short answer is that the consulting industry pays less than Wall Street - investment banking, private equity, venture capital, hedge funds, etc. Generally speaking, somebody in one of these industries will probably make around 20% more than someone at the same level in consulting. However, that pay difference is justified in a couple ways.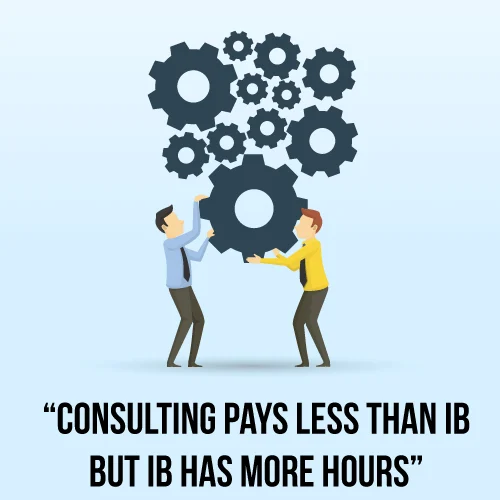 Investment bankers put in more hours than consultants do. The pay difference stems from, among other things, the more grueling lifestyle investment bankers lead. Unlike investment bankers, consultants get the weekends, and on some projects, you might work as little as 40 hours.
In both venture capital and private equity, hours are worse - albeit not by much - than consulting. The main difference is that lot of the compensation in private equity and venture capital is tied to performance. Someone at a poorly performing PE/VC firm might not make as much as someone on the same level in consulting, but someone at a well-performing firm would make far more than their consulting equals.
Hedge funds tend to have similar hours than consulting firms (although usually less by a margin), but the pay difference is still significant. Why? Similar to PE and VC, HF pay is deeply tied to the fund's performance. Someone at a hedge fund that's been thriving the past year will make far more than someone at the same level in consulting, especially at the higher levels. There are hedge fund portfolio managers who clear a billion dollars in a single year, a figure consulting partners wouldn't dream of.
How Do Promotions Work?
In consulting, there's a very typical path: start as an analyst, get an MBA to become an associate, and get a promotion every couple of years until the partner level. The partner level is possible within ten-fifteen years of getting an MBA. Keep in mind that this process doesn't necessarily occur at one firm in its entirety.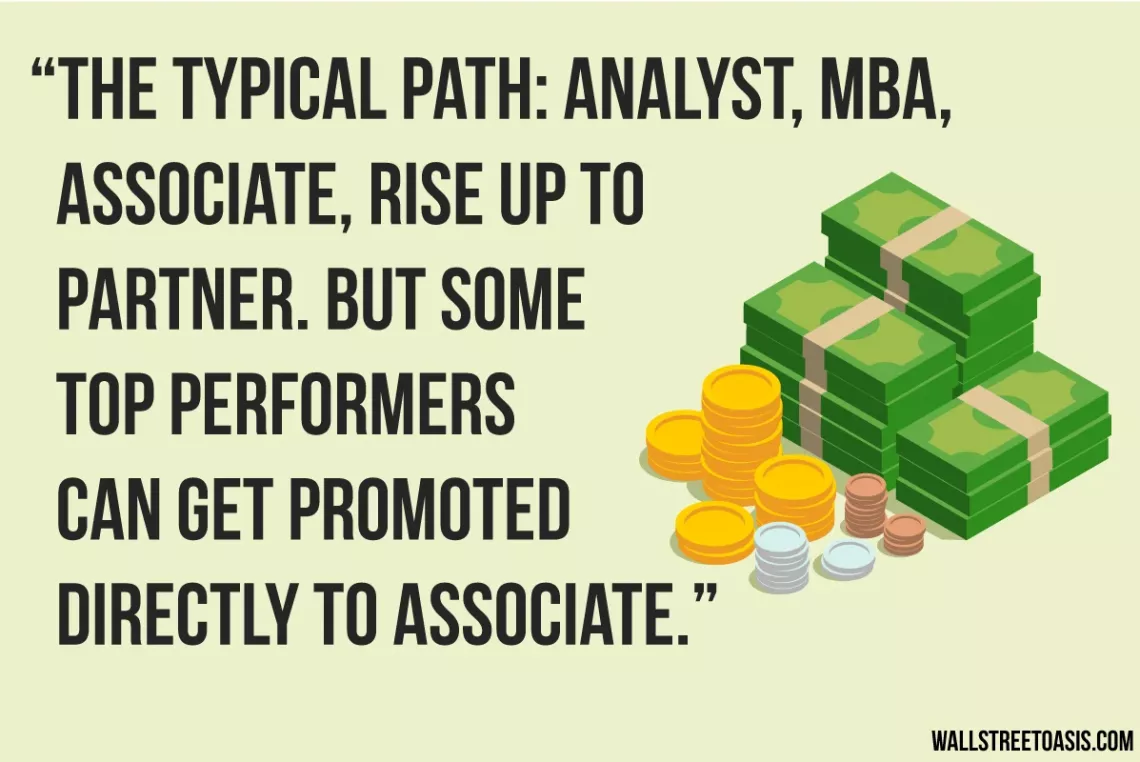 It is possible, however, to get promoted to the associate level without getting an MBA. These promotions are reserved for the top performers, but most rock star consultants end up leaving the job after a couple of years anyway. It's a high-stress lifestyle bound to high turnover.
Even among those who get a direct promotion, there are plenty who eventually get their MBA. Here's @John-Doe8" explaining that thought process.



I've known a few people who get promoted to the post-MBA position, do that for a project or two, and THEN leave for the MBA. Their feeling is that promotion to the next stage without an MBA is very difficult; I haven't been in the room when they received this career advice from partners/career development personnel, but it's a pretty common worry. The "promotion clock" pauses when you leave for an MBA, but it DOESN'T reset. This means that if you do 1.5 years at a post-MBA position, then leave for an MBA, you have ~6 months to demonstrate your ability to work at the next level or you can found yourself counseled out. Obviously, there is an army of people warning you about this, so I don't think it really happens, but I've spoken about this from people going through the decision process.
Sponsored MBA
Many consulting firms, MBB (top consulting firms McKinsey, Bain, and Boston Consulting Group) among them, will sponsor your MBA. This means that, upon your agreement to work for their firm for a certain period of time, they will help you pay for your MBA. There are a couple of stipulations to this:
Contractual commitment: As mentioned, you have to agree to work with the firm upon graduating. The period in which you are contractually obligated to work there is typically two years. You can get your MBA sponsored from a firm you worked with prior to your MBA (the far more common occurrence) or a firm you interned with during your MBA.
In rare cases, you are expected to work while getting your MBA. This also limits your choice of business schools by geography.
If your employer pays a certain amount, you might have to pay taxes on the tuition reimbursement if you fall into a certain tax bracket post-MBA.
Management Consulting Bonuses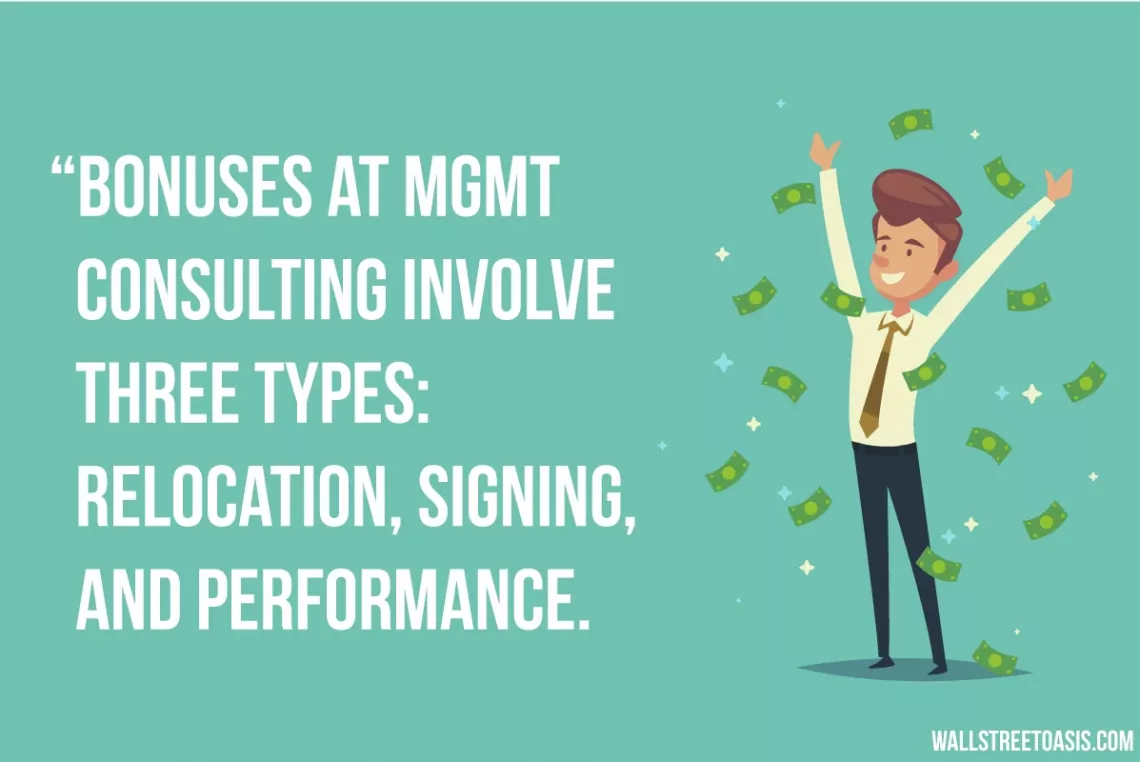 For undergrads, no consulting firm is going to give out significant bonuses. There are three different types of bonuses:
Relocation Bonus: This is the bonus paid to employees who agree to relocate. In many cases, no relocation bonus is paid as the consultant already lives near the workplace. Relocation bonuses are based off distance: the farther one lives from the workplace, the greater the bonus.
Signing Bonus: This is the bonus paid upon signing with a firm. It can be given ahead of time or upon working with the firm. Here's @John-Doe8" on how signing bonuses are paid out:




You are correct. You'll typically have your bonus paid out during the school year and have a choice whether to receive it gross or net of taxes. Net will probably make more sense from a tax situation.
Performance Bonus: This is the bonus paid based on performance. Top performers at MBB make up to $18k out of undergrad from performance bonus alone, while top performers at other firms make anywhere from $6k - $16k.
Management Consulting Salary by Location
Does compensation vary by country?
The short answer is a definite yes, although that status is not without its reasons. Management consultant salaries in the United States are higher than the rest of the world, including London. Even then, some prefer to work in consulting overseas. Here's @MadScientist", an accounting consultant, on why he prefers consulting in London over the United States.
I was told by an MBB guy at a recruiting event here in London in May that the work-life balance for consultants in London is better than in the U.S., and that it's better than banking in London, due to lower pay. He said that since they couldn't compete with banker pay, they compete on quality of life.

It sounds like you have your mind made up, but I'll add a few additional points. BTW, I'm an American who's been living and working (not in consulting but looking to get into it) in London for nearly 5 years, and not looking to move back anytime soon.
How Much Do Partners Make?
There are a couple of things that need to be understood before diving into how much a management consulting partner makes. First, not all partners stand equal. Some partners are classified as senior vice presidents, some as associate partners, some as directors, etc.
Certain positions are more senior and hold more responsibility than others. That's why it's simpler to classify two types of partners: junior and senior.
Second, bonus forms the majority of compensation at the partner level. Here's @petergibbons", a private equity vice president, with some insight into the bonus structure for management consultants.
Partner comp structure is highly variable firm by firm. There's a significant drop-off from MBB to Big 4. Senior partners at M take more of the pie than at BB, where comp is more evenly spread across the partnership.

Base salary is a less meaningful statistic because your variable comp grows as you become more senior. A top Associate Principal can equal their salary with their bonus; an Associate is not going to do that.
Now to the juicy part, what do they make? Generally, junior partners pull in $500k - $800k.
Senior partners, all-in, make north of $1M. Rock star partners make far north of just $1M, it depends on the firm, level of responsibility, and what they bring to the table.
Here's @Veracity", a consulting principal, regarding MBB pay at the partner level.
This is a dramatic departure from big 4 consulting pay, so please don't try and equate the two as they are totally different businesses with different employees and charge much lower fees.

There is not a single partner in a developed economy at MBB who makes 500k or 600k. It would simply never happen. Roughly speaking, the junior guys make 1-3M, the senior guys make 2-4M. The most junior will cluster around a million (first couple years), and as you progress, a few guys will make a bit more than 4M, but not many at all.
You'll notice that the numbers cited in the quote above were vastly higher than the ones we cited. This is because our figures for partner compensation are compiled averages from all consulting firms, not just MBB. MBB compensation will almost always be higher, all else equal, than any other consulting firm.
Interested in Consulting - Breaking In
Consulting is one of the most exclusive industries in the world, particularly management consulting. It's one of the best career choices for building a lucrative career because of the versatility it offers. But the simplest of mistakes during the interview will get you dinged; that's how competitive these positions are. Less than 1% of applicants get a top consulting job, which is why preparation is absolutely critical. The WSO Consulting Case Interview Guide is the only crowdsourced guide available, perfected by countless professionals to give you the edge you need.