FAA's NOTAM Nosedive | The Daily Peel | 1/12/23

Jan 12, 2023 | Peel #377
Give your silver bananas to...

Happy Thursday, apes.
Like Dory in Finding Nemo, the market said let's just keep ripping!
Yesterday's trade across equity indices was almost exclusively up, with every one of the 11 S&P sectors finishing in the green. It was like we went back to 2019 for a second there, with large-cap growth names leading the way while investors continued to load up on treasuries. But you gotta enjoy it while it lasts; CPI drops at 8:30 am. So, with fingers crossed…
Let's get into it.
Are you being ripped off by per-page pricing? Let's do the math!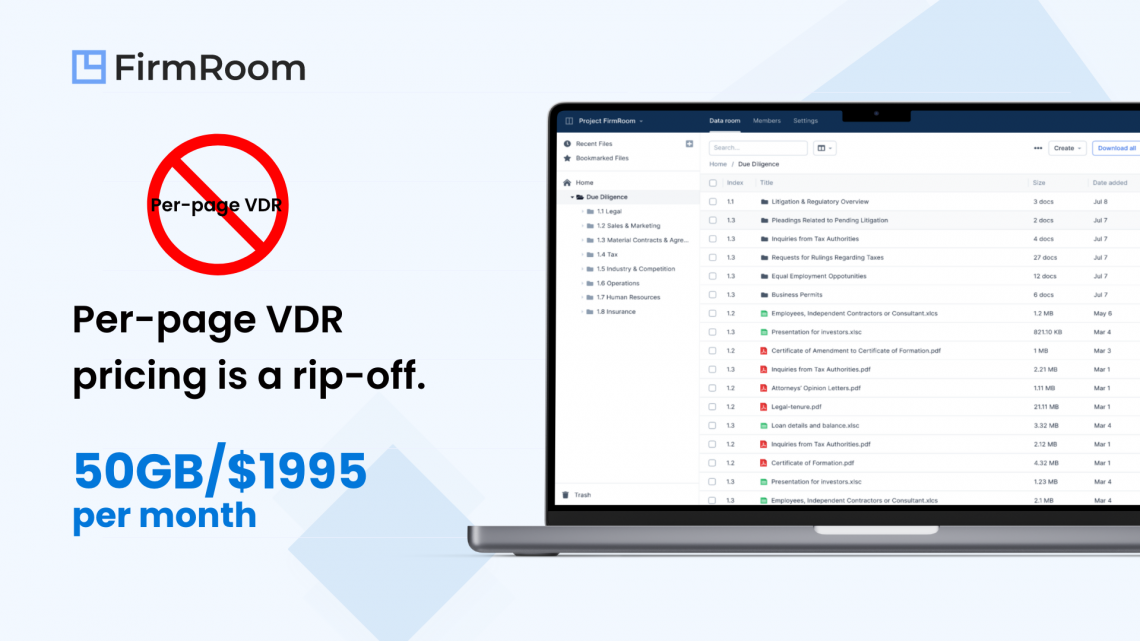 If you thought the Lorax hated killing trees, just wait until you hear about this…
Going virtual saves paper, which might save some trees, but prices offered by other virtual data room providers will just turn around and kill your business instead.
Not FirmRoom. Like the Lorax of VDR providers, FirmRoom is so dedicated to saving the trees and your business that you'll wonder how they're even profitable.
Speaking of profits, how would your business like another $80M in the bank? That's how much the beautiful geniuses at FirmRoom have saved other companies in the past year, why not get in on that?
It's irresponsible not to. And that's exactly why top 10 firm's in IB, PE, and Law almost universally trust FirmRoom for all their VDR needs. Think those companies are gonna waste a penny? Exactly.
With 50 gig data plans for just $1,195/mo, you'll be able to run over 500,000 pages for nearly 1/100th the cost of any other VDR provider.
So, why are you still reading this? Save the trees and your business with FirmRoom and all that sweet, sweet storage they offer.
Start saving now. Check out our per-page pricing calculator to calculate how much money you, or your client, can save with FirmRoom.
We Might Be Alright
Sorry, Kendrick, hope it's Alright if I paraphrase that legendary bar. It's for Macro Monkey, though, so at least it's for a good cause.
Not only that, but that paraphrase is about as accurate as we can get when we take a bird's eye view of the 2023 US economy and what we may have the privilege of experiencing over the next 11.5 months.
And that just happens to be exactly what we're talking about today. The bear vibes are bumming me out, and we've spread far more than our fair share of doom, gloom, and FUD lately. Today, let's take a walk on the wild side.
Our journey begins with a simple question: What if we actually pull off the soft landing?
Speaking very generally, a "soft landing" could roughly be described as a material drop in inflation without skyrocketing unemployment, a financial market meltdown, a housing collapse, or anything of the systemic sort. Gotta say, JPow, so far, so good.
December's jobs report showed us that while yes, the labor market is loosening up a tad, finding a job is still like finding a needle in a needlestack. Finding a job you like, that might be a different story…
The point is that airing out the job market should clear us of most of that deadly wage-driven inflation we've been seeing since way back when Donnie T was still on Twitter. But, keeping jobs relatively easy to find compared to "normal" economic times bodes well for consumer spending. The Goldilocks labor market just may be upon us.
Another thing that has Wall Street professionals curled up in the fetal position when they get home is the 3-month-and10-year yield inversion. Meanwhile, just over a week ago, the guy who first pointed out the thing said that this period's inversion "is flashing a false signal." Take it with a grain of salt, but his main reasons include the following:
Strong job growth persisting amid slowdowns in wage growth
Behavioral changes brought on simply by awareness of the inversion's predictive power ("the trend has vanished, killed by its own discovery")
Real rates for 3-month and 10-year treasuries are almost definitely non-inverted
That last one is an "almost" because there just are no 3-month breakeven inflation rates like there are for the 10-year and others. Using the latest CPI data, according to Yahoo, the 3-month real rate would be negative while the 10-year's is at 1.5%.
Lastly, and this is entirely conjecture (as if everything before wasn't), but if we do see a recession in '23, then this is the most obvious economic downturn literally of all time. Building off that second bullet above, when everyone sees an economic storm coming, they tend to batten down the hatches, which inevitably will change their eventual outcome. What if not just the Fed but pretty much all US businesses too reacted appropriately to avoid such a downturn?
Maybe, just maybe. As I said, today is a day for some much-needed optimism. Let the positive vibes reign; just please don't raise my rates by more than 25bps <3.
Amazon ($AMZN) ↑ 5.81% ↑
Following in the footsteps of AWS, shares in Amazon are heading to the clouds. The stock gained nearly 6% today as Jassy & Co. start to eye the $1tn mark again.
Really all this year actually, Amazon has kind of been on a tear and a much-needed one after last year's 50% march to the morgue. Analysts at Cowen used their sell-side powers to drive much of yesterday's gains, coming out with a fresh buy recommendation but lowering their price target at the same time.
To be fair, that price target was lowered from $160 to $140, still a more than 50% gain from here. Moreover, maintaining their buy rating displays confidence despite a lowering target price.
It's as if Wall Street is suddenly waking up and realizing it's not 2022 anymore. As headwinds subside and recession fears (very, very mildly) fade, the former bookseller is hoping to enter a Brave New World.
Microsoft ($MSFT) ↑ 3.02% ↑
What? I told you large-cap growth led the way. What did you expect??
Speaking of an early-year recovery for big tech, Microsoft is up well over 10% since mid-November, definitively outperforming that bum, the S&P 500.
Without any truly driving cause, shares have been gaining on the same kind of return to optimism that seems present in $AMZN shares.
Oh yeah, you know that ChatGPT your loser nerd friends keep talking about? Well, Microsoft is looking to 10x its investment in the firm, giving investors a way to get public market exposure to the most promising tech company since…Microsoft. That sure is one way to make shares excel (lmao, you're welcome).
Intuitive Surgical ($ISRG) ↓ 4.20% ↓
Lmao, for a bad day, at least the day's return is a pretty sick meme. Just wait; it gets better.
Shares in Intuitive Surgical shed 4.20% yesterday on the back of some garbage news for the firm. In Q4, the firm's flagship Da Vinci robot saw weaker rollout figures than expected, with only 369 registered placements, a nice 4% drop from last quarter.
Despite the 69 and 420 references abounding over the course of the day, investors weren't pleased. Earnings are set to drop in just a week and a half, so hopefully, the firm's CFO is performing surgery on their quarterly numbers. Looks like they'll need it.
Coffee (KC1!) ↓ 5.27% ↓
Everyone knows that the only reason Bill Gates, Warren Buffett, and Elon Musk are all so rich is that they make their coffee at home. Why waste $3/day when you can make your own steaming hot trash right from home?
Well, if coffee prices keep moving the way they have been, you can become as rich as Elon and still run to Dunks in the morning. Big W!
While that may only partially be true, prices for commodity contracts on bags of coffee have absolutely tanked since September of last year. Coffee-friendly weather forecasts this season have assured traders that supply will be way too plentiful for their liking, sending prices tanking.
Don't worry; your venti mocha iced sprinkles and whipped cream at Starbucks will still be at least $11.50. My homies and I will be vibing with our $3 iced blacks from Dunks.
Credibility Nosedive
Imagine planning out a whole a** vacation, getting a couple of days off work, and schlepping yourself and your ungrateful family to the airport, only for your flight to be canceled. That's exactly what happened at every single airport across the United States today. Great way to start the fam vacay.
Perhaps the only solace to take is the knowledge that along with your own flight, at least 1,309 others were canceled as of 5 pm. You're not alone. And if that's not good enough, over 9,206 flights across the country have been delayed in that same time frame.
This leads us to just one question: WHAT HAPPENED?!
Basically, the Federal Aviation Administration (FAA) f*cked it. Apologies for the language, but there's simply no other way to encompass just how bad this was.
As part of the FAA's attempt to make sure planes don't crash into things or each other and commit an accidental mini-genocide in doing so, the FAA operates a system called NOTAM (Notice to Air Missions) that informs pilots and air traffic controllers (ATCs) of real-time hazards over their flight course. (It's kinda important.)
On Wednesday morning, out of absolutely nowhere, NOTAM went dark. Pilots, ATCs, and anyone else involved lost real-time info on what might cause them to crash, burn, and die, so naturally, there was a nationwide grounding of flights. Around 9 am, air travel resumed, but all hell had already broken loose.
Oh, I can't even tell you how mad I'd be. If my flight and subsequent vacation got delayed because of this, there'd be a video of me circulating on Tiktok and everywhere else committing the most heinous Ken/Karen behavior you've ever seen.
A lot of people immediately presumed this must be the result of a cyberattack. As of 7:33 pm last night, all signs point to regular ol' incompetence.
But that theory of cyberwar makes sense, and NOTAM would be a damn good spot to hit. Airlines and the service they provide drive a large part of our economy, so stoppage of any kind is worrisome enough.
A nationwide delay that's caused thousands of cancellations and delays, which, of course, will lead to even more cancellations and delays, is a mess even your ScrubDaddy can't clean up.
Good luck to anyone going anywhere anytime soon. You'll need it!
The big question: Will this fiasco, along with SouthWest's shenanigans last week and the whole Boeing 737 thing and so many others, cause people to reconsider flying to any material degree? What are the broader implications for long-distance travel if the safety regulator keeps humiliating themselves?
Yesterday - I have keys, but no locks and space, and no rooms. You can enter, but you can't go outside. What am I?
A keyboard.
Today - It's 100 bananas off the Hedge Fund Interview Course for the first 15 correct respondents. LFG!
What is the angle between the hour hand and the minute hand of a clock at 3:15?
Shoot us your guesses at [email protected] with the subject line "Banana Brain Teaser" or simply click here to reply!
"Risk and time are opposite sides of the same coin, for if there were no tomorrow, there would be no risk. Time transforms risk, and the nature of risk is shaped by the time horizon: the future is the playing field." - Peter L. Bernstein