Free Month
Contribute to the database and get 1 month free* Full online access!
Contribute and get 1 month free!
1 week free for intern submissions
Most Popular
WSO Premium
Full database access + industry reports: IB, PE, HF, Consulting
$8.08 per month billed annually
...or $19 month-to month
Includes All Industry Reports
25k Interviews, 39k Salaries, 11k Reviews
IB, PE, HF Data by Firm (+ more industries)
Has anybody every worked at an Outsourced CIO firm (OCIO) and have experience on any exit opportunities? ex.,  Private equity or Asset Management.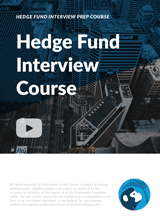 Hedge Fund Interview Course
814 questions across 165 hedge funds. Crowdsourced from over 500,000 members.
11 Detailed Sample Pitches and 10+ hours of video.
Trusted by over 1,000 aspiring hedge fund professionals just like you.
Total Avg Compensation
January 2021 Investment Banking
2nd Year Analyst (88)

$152

3rd+ Year Analyst (19)

$150

Intern/Summer Associate (90)

$144

1st Year Analyst (349)

$132

Intern/Summer Analyst (299)

$82