Private Equity vs Venture Capital - Differences and Similarities
There's a fine line between private equity and venture capital firms. Many get them confused because they both invest in private companies and attempt to sell that equity at a profit down the road.
Yet there are several critical differences between the two. Venture capital and private equity firms differ in investing structure, strategy, compensation, and more. Here's what you need to know.

What is the Difference Between a Private Equity Firm and a Venture Capital Firm?
There are several characteristics of a private equity firm that set it apart from a venture capital firm.
Invest in established companies.
Work with companies on operations.
The goal is to improve efficiency, which then improves the bottom line.
Typically acquire 100%, or at least a majority, of the companies they invest in.
Invest in a wide variety of companies. If a company's processes can be improved, then it has a distinct appeal to private equity firms.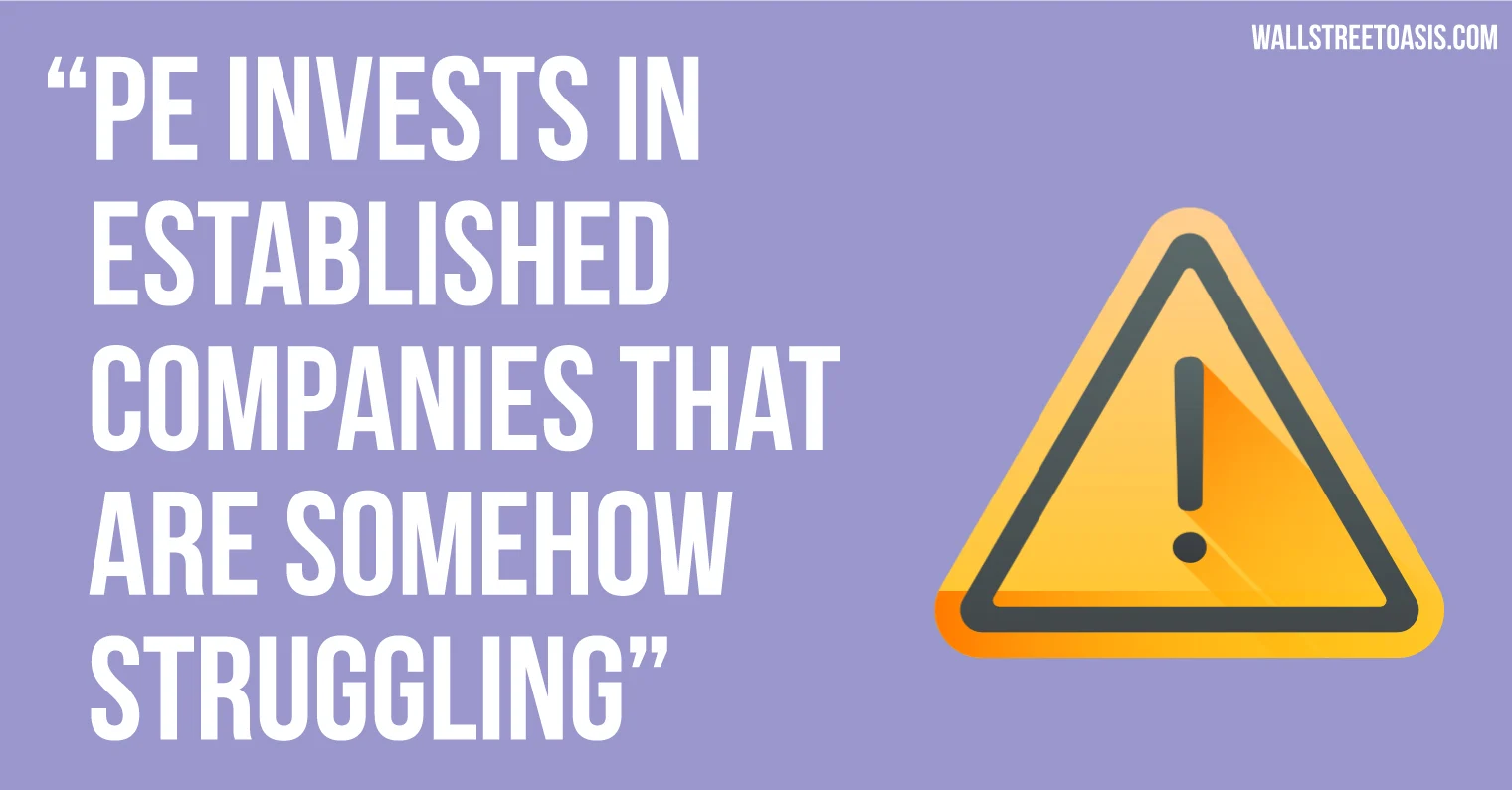 Private equity firms, unlike venture capital firms, invest in established companies that are somehow struggling. They then work with the companies over a period of time, which varies, to streamline the business, improving efficiency and, as a result, profits. They can do this because they acquire 100% or a majority stake of the company.
What is a VC Firm?
Here's what separates venture capital firms from private equity firms:
Invest in startups
Invest in less than a majority of equity in a company
Prefer to diversify across a broad array of startups as they are unpredictable and often fail
Venture capital firms invest in startups in technology, clean technology, and biotechnology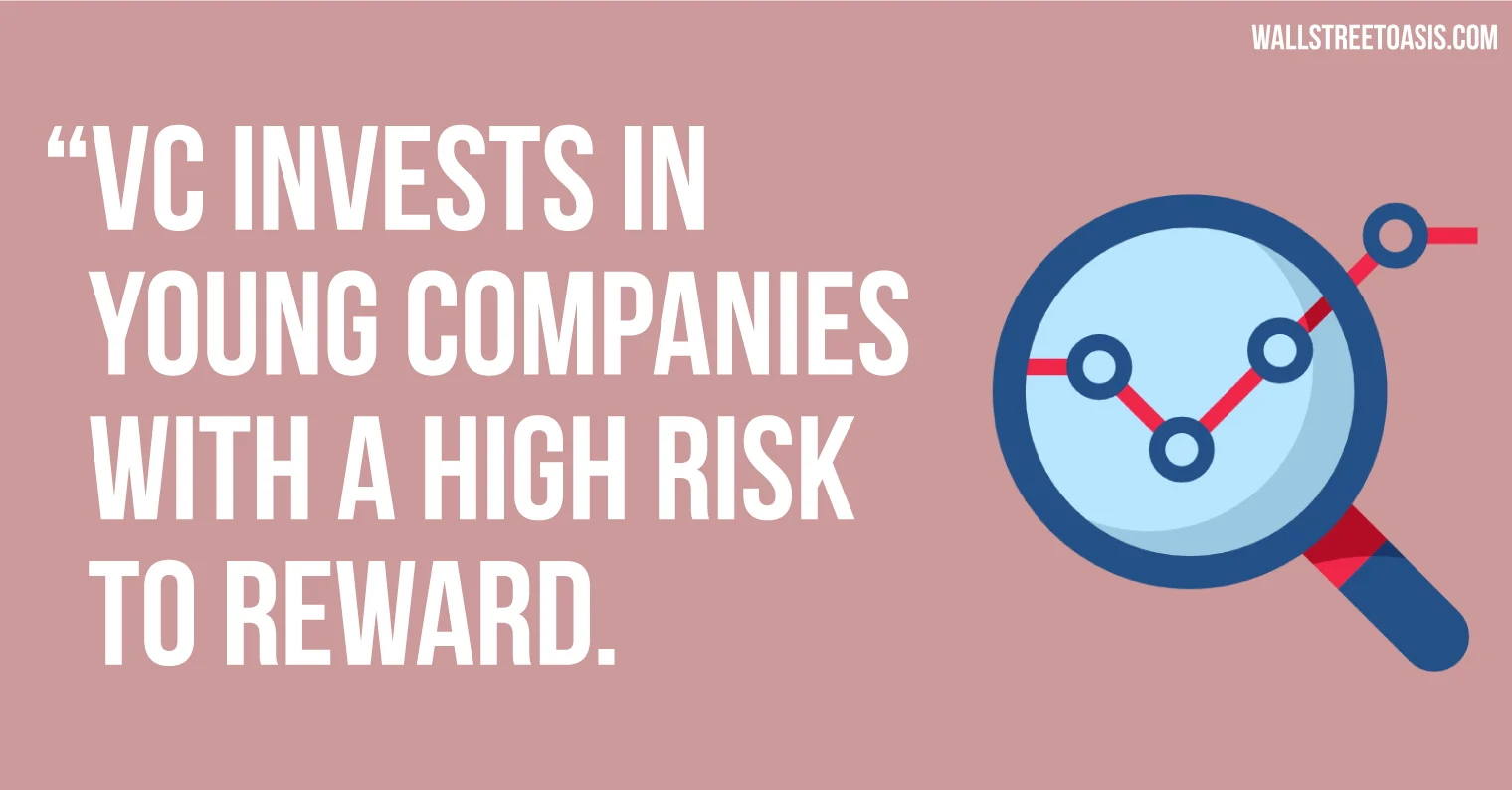 Venture capital firms invest in companies with both a high risk and a high reward. Because of this, they spread their investments more to prevent a failed investment from significantly impacting the fund. While private equity firms invest in a wide array of different types of companies, venture capital firms invest in startups in technology, clean technology, and biotechnology.
Compensation in Venture Capital vs. Private Equity
The compensation structures in private equity and venture capital are quite similar. A lot depends on the success of the firm and how long you've been there - these factors determine your carry. Typically, pay in private equity is more than in venture capital. To illustrate a point, an associate in private equity typically makes around $245k all-in while an associate in venture capital can expect to make anywhere from $130-250k.
As you climb the ladder towards higher roles, the pay gap tends to increase between private equity and venture capital in favor of private equity.
Private Equity Venture Capital Hours
Here's some insight from @More Leverage", a venture capital vice president, regarding the hours and work-life balance in both private equity and venture capital.
It's very hard to answer this question because hours vary so much from firm to firm. Some firms will grind you to the bone and continue to do so for a long time. Others are more laid back and allow you to have a life.
A few generalities I've found to be somewhat (though not always) accurate: my perception is VC typically has slightly better hours (though I have only worked in PE so I'm not 100% sure); bigger firms usually work longer hours; you will almost always work at the very least 50 hours per week regardless of the firm unless you own the place; majority of firms will fall between 55-75 from what I've seen and heard.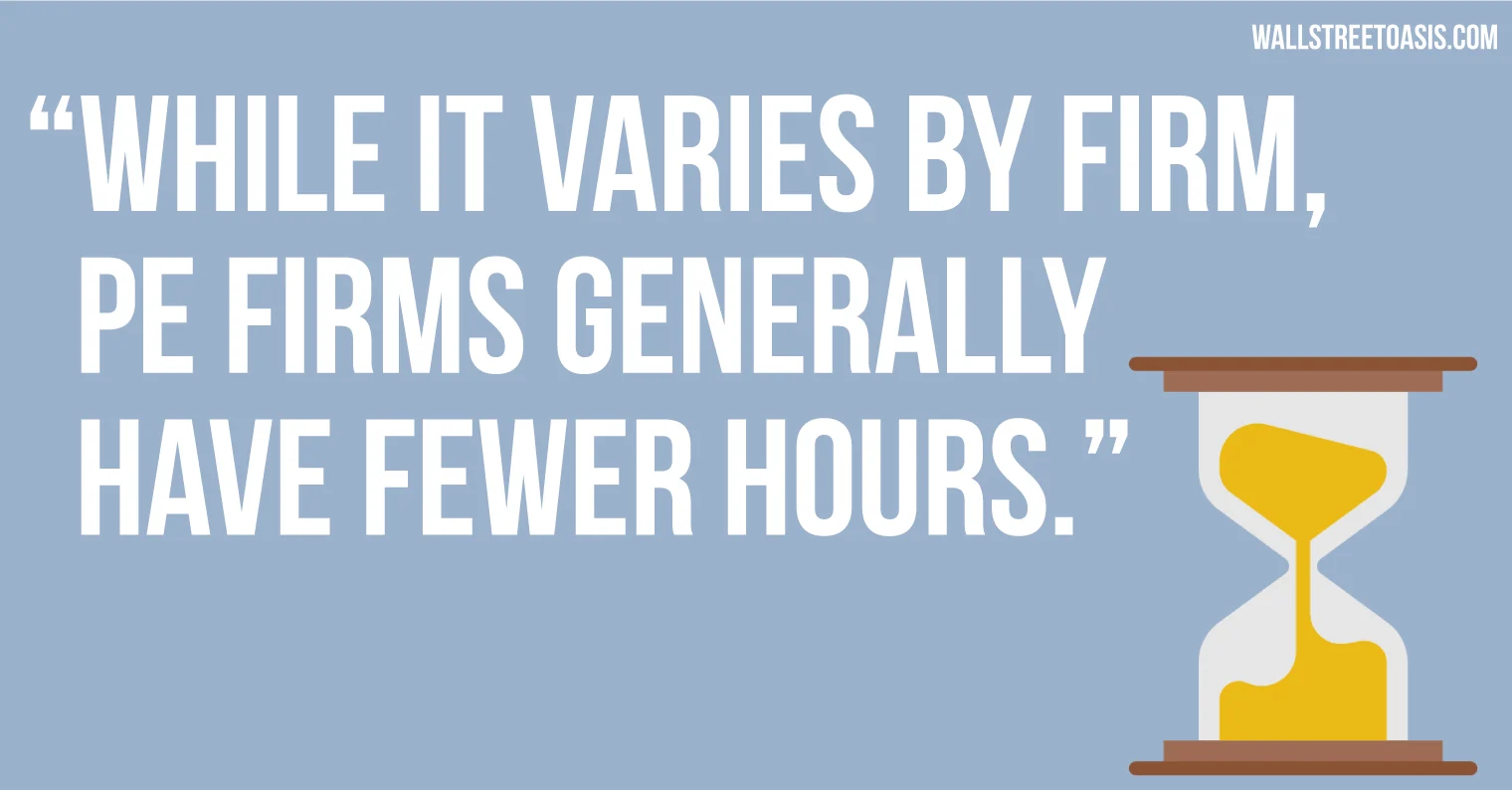 I'm speaking of a typical work week. All bets are off, regardless of firm, if you are closing a deal (but some firms do a better job of managing this process without staying til midnight than others).
While it absolutely varies on a firm-to-firm basis - in general - private equity firms have fewer hours.
Recruiting and Exit Opps for PE and VC
So how does one go about getting a job at either of these types of establishments? First, it's important to understand that both employ a different type of recruiting process.
In most cases, private equity firms recruit on-cycle. On-cycle recruiting is an accelerated process which begins in January. They quickly evaluate you based on mostly technicals and your academic background. On-cycle recruiting for private equity firms often starts as soon as six months into your first investment banking job. That's another thing: private equity recruits mostly from current investment bankers and MBA candidates.
Venture capital firms recruit off-cycle, which is typically a slower process. Because it's off-cycle, there isn't a set time that most venture capital firms recruit. Unlike private equity, venture capital recruits from a wide array of backgrounds. They evaluate you based on your qualities more than your technicals - networking, sales, market knowledge, etc.
PE vs VC - Exit Opportunities
Exit opportunities between private equity and venture capital firms vary quite a bit. Here's some insight from @ews09" regarding venture capital exit opportunities.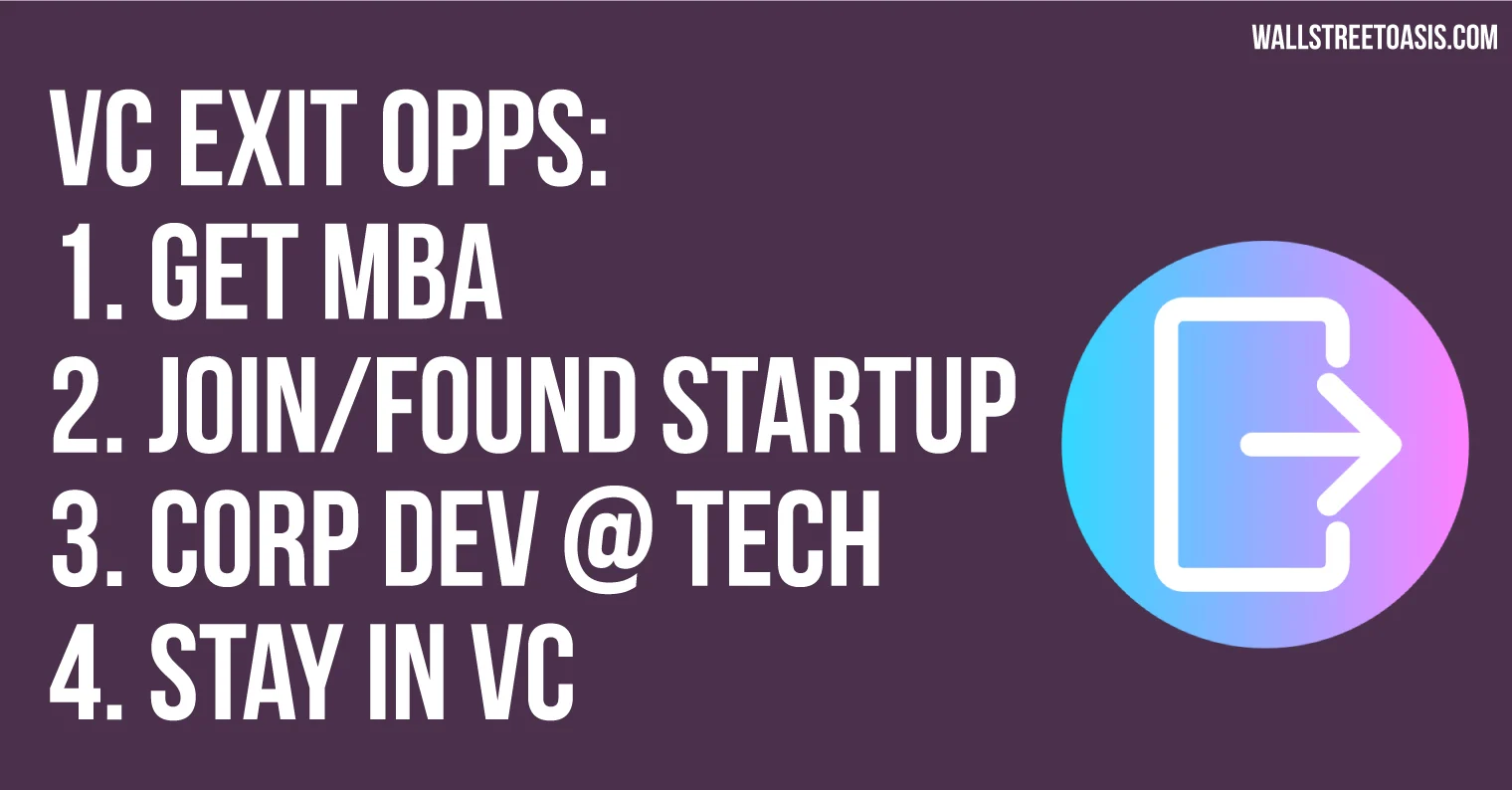 In terms of exit opps, the main ones are:
Get an MBA.
Join/found a startup.
Go into a corp dev role at a tech company.
Stay in VC.
The first is by far the most common path. After a few years as a VC analyst, you should be well positioned to get into b-school, and then you'll have a ton of opportunities.
You could also join a startup. I know some ex-analysts who go on to either create or become an early employee at one of their firm's portfolio companies. You should only do this if you really believe in a particular startup.
The third option is to do corp dev at a tech company. Pretty self-explanatory.
And finally, you can try staying in VC. This basically requires getting an MBA though, because non-MBAs are generally not put on the partner track.
As for your last question, yes, in some ways, you will be locking yourself in a niche. You can't transition easily to other finance careers like PE or HF. You'll be limited to the domain of technology/entrepreneurship. But that's a very broad domain, and within that, there are tons of options.
Should I Pursue PE or VC?
Which one is better? The two different firms offer different types of work, different opportunities, and different lifestyles. There is no universal "better" choice; it's entirely up to you to decide which one might suit you.
Interested in Private Equity - Here's What You Need to Break In
Private equity is recruiting is ten times more cut-throat than anything you've ever experienced before. If you want to break into private equity, you need to be well-practiced in the technical aspects of the interview. The package is worth well more than the $299 price; the job prospects you set yourself up for are worth far more than $299.