Boss' condescending email...What do?
Pages
Corporate Finance - Manager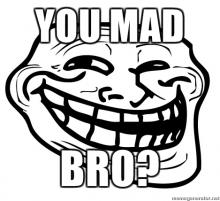 WSO,
So I recently put in my resignation letter and giving my 2 weeks notice. The boss, at the time, seemed upset but not overly dramatic about it. Then, yesterday I exchanged emails giving my official date and for whatever reason, he was not pleased. Thereafter, he started attacking me personally, telling me I was a wasted investment by the company along with other rants.
My question is, How should I go about this? Should I even give a rat's a$$? All suggestions welcome.
The WSO Advantage - Land Your Dream Job
Upcoming Events
Nov 24 2015 -

5:00pm

to

6:00pm

Nov 29 2015 -

12:00pm

to

1:00pm

Dec 2 2015 - 8:00am

to

Dec 4 2015 - 5:00pm

Dec 2 2015 -

7:00pm

to

8:00pm

Dec 7 2015 -

7:00pm

to

8:00pm
Poll
Long term, which career path interests you the most?
Accounting
1%
Asset Management
9%
Commercial Banking
1%
Consulting
4%
Corporate Finance / Strategy / Development
9%
Entrepreneurship
6%
Equity Research
3%
Fintech
2%
Hedge Fund
18%
Investment Banking
9%
Investment Advisor / PWM
1%
Private Equity
16%
Prop Trading
2%
Real Estate
6%
Sales & Trading
3%
Venture Capital
6%
Other Finance Role (academia, non-profit, government, legal, etc)
1%
Other - Non Finance
2%
Total votes: 1158