Boss' condescending email...What do?
Pages
Corporate Finance - Manager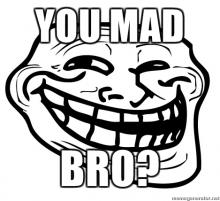 WSO,
So I recently put in my resignation letter and giving my 2 weeks notice. The boss, at the time, seemed upset but not overly dramatic about it. Then, yesterday I exchanged emails giving my official date and for whatever reason, he was not pleased. Thereafter, he started attacking me personally, telling me I was a wasted investment by the company along with other rants.
My question is, How should I go about this? Should I even give a rat's a$$? All suggestions welcome.
Upcoming Events
Feb 4 2016 - 8:00am

to

Feb 5 2016 - 8:00am

Feb 5 2016 - 8:00am

to

Feb 6 2016 - 8:00am

Feb 9 2016 -

5:00pm

to

6:00pm

Feb 10 2016 - 8:00am

to

Feb 11 2016 - 8:00am
Poll
Who do you want to win the superbowl?
Panthers
29%
Broncos
36%
Don't care
35%
Total votes: 196