Comprehensive List of Feeders?
Points)
on 5/27/12 at 5:25am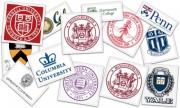 Can you guys give me a list of undergrad colleges that are feeders in IB? I am currently an incoming senior and I want to be able to compare schools in terms of how they place in IB, most specially in NYC.
Mod (Andy) note: Thanks to user Blackid for this in-depth response:
Tier 1: Harvard, Wharton, Stanford, Princeton, Yale
Tier 2: Cornell, Columbia, Dartmouth, MIT, Oxford, Cambridge, LSE
Tier 3: Brown, Amherst, Williams, Duke, Caltech, UChicago, Stern (NYU)
Tier 4: McIntire (UVA), Ross (Michigan), Haas (Berkeley) West Point, Air Force, Naval Academy, Notre Dame, Northwestern, UPenn CAS
----
Regional Targets (excluding schools already mentioned):
West Coast:
- Anderson (UCLA), Marshall (USC), Claremont McKenna
South:
- Vanderbilt, McCombs (UT), Rice, Emory,
South East:
- Kenan-Flager (UNC). [Caveat: KF is technically a target but is a top target for Charlotte firms].
East Cost:
- William and Mary, Georgetown
Tags: