Grading The Economy | The Daily Peel | 4/26/22
Buckle up, Apes! Today, we kick off a wave of reporting for high-vis economic data, and earnings season rolls on with a massive week on deck. We're going to see the Q1 GDP numbers, and we're also going to get insights into consumer sentiment, home prices and sales, jobs, wages, and durable goods.

 

Monday was a bit of a hangover day following a weekend after one of the worst trading days of 2022. The futures were under pressure this morning after Friday's $hitshow, and markets initially plunged into the red. After what looked like another potential bloodbath, the major indices ended Monday higher. The S&P gained 0.57%, the Nasdaq moved 1.29% higher, and the Dow ended up 0.70%.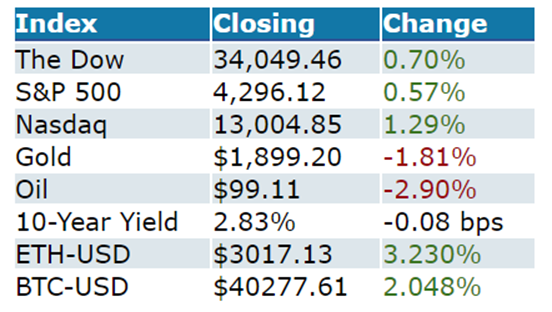 This cutting-edge startup is taking its autonomous, tech-powered pizza pods to 100 new locations this year and 500 new locations in the next 5 years. With 2X higher margins, 3-minute pizzas, and an ultra-compact and scalable model, you can invest in this pizza pod before 5/4.
Let's get into it.
Expectation Management - Gas prices are on the decline, down a few nickels and some pennies. If you're feeling good about how much it costs to fill up, feel free to rub this newly found spare change together to celebrate.

 

That being said, a gallon of regular unleaded is still higher than a Snoop Dog meme, up a buck and a quarter from the same time last year and almost $1.90 since the end of January 2021.

Gas prices aren't going to decline anytime soon, at least not until energy commodity markets are either inefficiently regulated by government bureaucrats or supply catches up with demand.

The funny thing about energy demand is that it's rather sticky and mostly inelastic. If you drive to work, you can't not drive to work, especially with our work-from-home battle stations getting dusty as we return to office. If you heat or cool your home, you might slide the thermostat a couple of degrees one way or another, but you're still paying your utility company elevated rates right now.

It's also a bad time to buy or rent a home, as prices and rents soar. Yes, I am advocating living in your parents' basement.

At least as interest rates go up, you can expect more inventory in the residential real estate market. This might drive you not to offer $75k over asking, only to have your hopes crushed again. Your offer around asking might actually get accepted (not financial advice). This has home builders pretty bearish on the next year or two.

Today we will see an updated Case-Shiller Home Price Index that analysts expect almost a 20% year over year jump. We will also see a seasonally adjusted new home sales number that has been in decline in the last few months.

Not to insult your intelligence, primates: these two metrics are considered a barometer for the housing market's health. In plain English, they're pretty important indicators of the health of the housing market and a proxy for a good chunk of the overall economy.

Later this week, we will hear about GDP growth. Analysts expect a slight expansion of the US economy, clocking in at around a 1% increase in GDP. This is a far cry from the numbers we saw last year, and it is a direct measurement of the health of the economy.

As we said early, buckle up. It might be an interesting next few trading days.
Time's Almost Up! Invest In This $233B Pizza Industry Disruptor
Just like their dough, 800º GO is on the rise, but you can only invest until May 4th.
This cutting-edge startup is taking its autonomous, tech-powered pizza pods to 100 new locations this year and 500 new locations in the next 5 years.
With 2X higher margins, 3-minute pizzas, and an ultra-compact and scalable model, the $660 billion U.S. restaurant industry simply can't wait for this robotic pizzeria.
Invest before the raise ends on 5/4 and get up to 20% bonus shares now
Twitter ($TWTR) - Can we be f*cking done talking about this? Apparently, Twitter's board has finally agreed to a takeover bid by the world's richest man, and all of you Elon simps are lapping it up like my dog licks his own $hit.
Twitter's board of distinguished non-major shareholders politely entertained Elon's offer, more or less taking the effects of their poison pill strategy off the table.
This will be the largest LBO in history. Considering that the M&A calendar has been pretty dry, this is some rain in the recent drought for all of you who follow murders and executions.
On the news, $TSLA shares shed 5.66%. Twitter shares popped pre-market, closing at $51.70, which is still below the offer price of $54.20.

Moderna ($MRNA) - Shares of $MRNA ripped higher on Monday by 7.18%.
I'm not sure that this is a rumor just yet, but I want to start it: there are fears of a new round of C-19-related challenges brewing in the world, and pandemic stocks are back on the table.
Or, an alternate rumor #2: the Chinese vaccines don't really work, and it's time for Moderna to distribute their vaccine to another billion people in Asia.
If you don't like either of these rumors, perhaps investors are gearing up for smashing earnings from Moderna on Wednesday next week. Either way, $MRNA was back to ripping on Monday as we got used to seeing in 2020 and 2021.

Energy ($XLE) - The math here is simple. The People's Republic of China uses just shy of 15 million barrels of oil per day. Its zero-c-vid policy has resulted in a whole boatload of additional lockdowns this month. Something like 10% of the population is currently under or under the threat of one of these new lockdowns.
This is putting pressure on global oil prices, among other macroeconomic and supply chain metrics. That being said, on the fears of a significant consumption drawback in the PRC, oil prices fell almost 3% Monday, and the S&P 500 Energy ETF retreated 3.31%.

Netflix ($NFLX) - Netflix can't catch a break. Its stonk continues to trend lower. Shares fell by 2.60% on Monday.
While I don't agree that streaming is dead, investors are falling out of love with the streaming giant.
Maybe this is a good thing. Just like Meta, $NFLX might be turning into more of a value play. With a P/E just below 19 after Monday's close, maybe it's time to BTFD?

Big Week for Guidance - Let's be optimistic; about 20% of the S&P has reported earnings already, and more than 75% of these big ballers have beaten expectations by about 9% on average.
This beat rate is way above the historical 66% rate we've seen in the S&P since the mid-90s.
In the words of the Orange Man, this is a yuge week for earnings reporting, economic data, and the associated guidance and analysis that is married to it.
After Friday's meltdown, it makes you wonder if the market will play nice given that a lot of earnings calls are going to issue a lot of updated guidance this week.
This earnings season is interesting because it's the first time companies have issued or updated guidance in a Hawkish Fed's tightening cycle in a handful of years.
In S&P terms, you have a new generation of C-suite daddy rabbits who haven't whispered sweet nothings to investors on the bat phone during one of these calls yet in their careers.
There's a lot of really paradoxical and even moronic advice that you'll hear from the pundits and talking heads when it comes to picking stocks for this week and the next six months.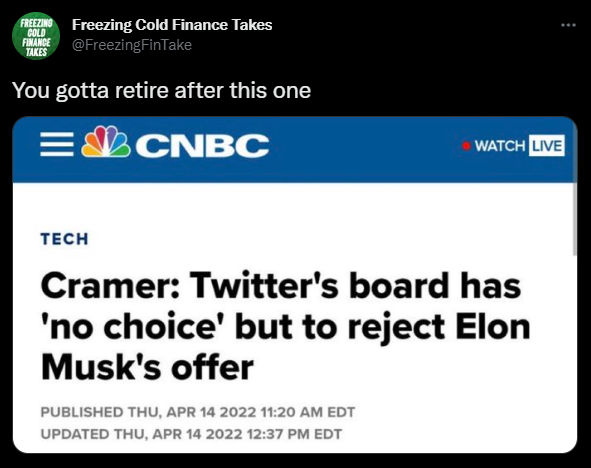 Find companies with good balance sheets, strong free cash flow, good revenue, good earnings, and great visibility in the market, they'll say, and that it can keep you safe in a down market. You don't say? No $hit, Sherlock.
If it was that easy to find a basket of these bellwether stocks, even the dumbest of us primates would be able to weather a market downturn.
It's not that easy. You can focus on the micro – a single industry, a small basket of companies, an individual stock, or one set of financial statements. However, if you're not considering the big picture, you can still end up in the gutter with the rest of us degens.
This year is going to be an absolute f*cking b*tch when it comes to the macro environment. If you like metaphors and plays on words, now is your time to shine when it comes to boa constrictors standing on your chest due to rising inflation and an adversarial Federal Reserve.
If you fail to acknowledge the effects of interest rates, consumer sentiment, a potential r-word, and rising prices for basically everyone, you've missed the metaphorical boat.
"I wish I wasn't the world's richest man. There is nothing good that comes out of that." - Bill Gates, 2006