Skittles and Red Wine | The Daily Peel | 2/6/23

Feb 6, 2023 | Peel #393
Give your silver bananas to...

Happy Monday, apes.
Phew, we made it through the biggest week of the year (so far). A Fed decision, trillions of dollars in earnings, and Friday's jobs report as the coup de grâce all came and went, with stocks managing to hold up decently (just don't look at Friday). Despite all this, the VIX barely managed to even cross 20. However, treasury yields and the US Dollar flopped around a bit more, closing with massive spikes on Friday. Time to find out why and what's to come.
Let's get into it.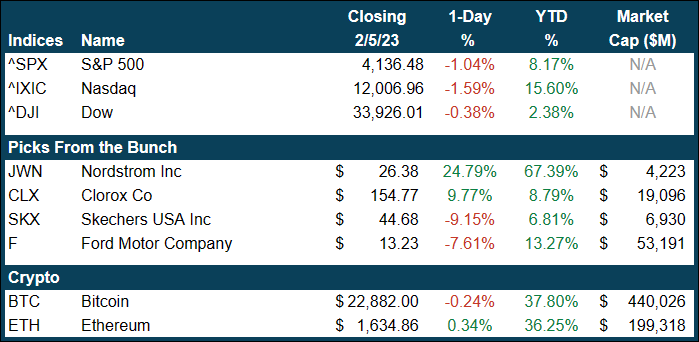 How to Turn Your Next Deal into a Four Leaf Clover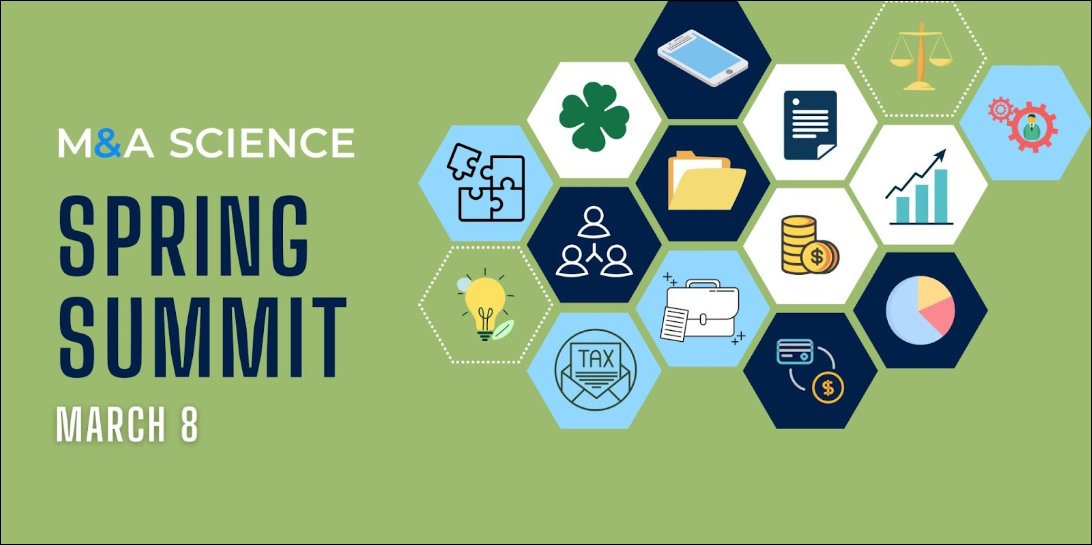 Sourcing a deal that is quick to diligence and easy to integrate may feel like searching for a four-leaf clover. Ready to become your company's M&A good luck charm? Join us for the M&A Science Spring Summit on March 8! Come and learn new M&A tips and techniques that will leave you feeling like you just found a pot of gold at the end of a rainbow.
During the summit, hear from experts in internal diligence, career building in corporate development, M&A landscapes, M&A law, and private equity trends. Registration is free. See you there!
Interested in our event sponsorship opportunities? Contact [email protected] to learn more.
Oprah's Job Market Continues
Headline: "Stocks fall on US economy performing better than expected." That pretty much sums up Friday's decline.
What's old is new again. For a minute there (more like for the month of January), it seemed that bad news was bad news again, and good news was good news.
This was not the case following Friday's jobs report, which showed that nearly 3x more Americans started a new job than expected.
Guesstimates for the month pegged non-farm payroll additions at 187k. Turns out that January actually gave us roughly 517k more jobs, bringing the unemployment rate to 3.4%, a low not seen since a few months before the moon landing (May 1969).
Now, the unemployment rate posting a low not seen since your grandparents were tripping on acid at Woodstock sounds like a good thing, right? Well, apparently not, at least according to Mr. Market.
It's the same old story we've been hearing for months. Higher non-farm payroll additions indicate that the job market isn't nearly as tight as JPow wants it to be, suggesting demand for labor still far outstrips supply. In theory, this imbalance leads to wage-push inflation, necessitating further rate hikes.
The new problem, however, is this is a sharp reversal of the trend we thought was occurring. Look at the chart below. From February to December, monthly payroll additions were pretty much chilling on a steady downtrend, with a few obvious exceptions.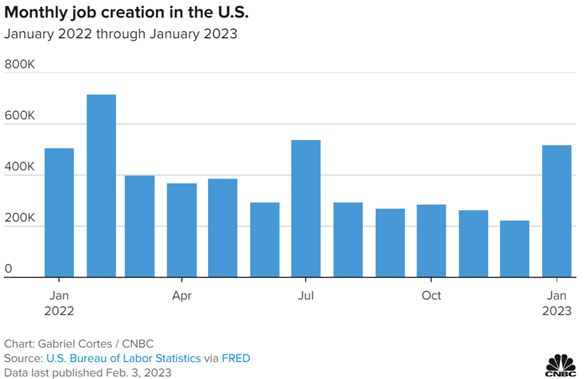 That's not supposed to happen. Job growth and falling inflation pair about as nicely as Skittles and red wine. Both are great, but you're not supposed to have them together.
Whether this is a fluke or an early sign of inflation following in the footsteps of Big Sean by deciding to Bounce Back, we can't know for sure until the next CPI report, dropping on Feb 14th. Yes, that also happens to be Valentine's Day, meaning you'll have the chance to ruin both your love and financial life on the very same day!
January's report also showed an increase in the labor participation rate to 62.4%, something the Fed has been waiting on for a while. On the other hand, wages continued to storm higher, gaining 4.4% for the year (beating expectations) and 0.3% for the month (in-line).
One piece or set of data isn't gonna tell you anything on its own, but this jobs report does suggest a reversal in the recent disinflation narrative, hence stocks throwing up on Friday. Still, the yield curve is pricing in rate cuts in the latter half of 2023, while CME gives a rate increase in late March with about 83% likelihood.
One last thing to point out: Look at the above chart again. All of those trend reversals in job additions occurred in months when the market was starting to rebound (July, October, and now January). Despite all those tech layoffs, it seems like employers said, "yo, our stock is higher," or "yo, my portfolio is higher, can we hire more people?"
As usual, I don't have any answers for you. I'm just here to point sh*t out. The only thing that's clear is that while in physics, a "theory" is something like gravity or evolution, in economics, it's more like the Tooth Fairy and Santa Claus.
Nordstrom ($JWN) ↑ 24.79% ↑
After leading successful turnarounds in now-massively successful companies like GameStop and Bed, Bath, and Bankrupt, Ryan Cohen has lasered in on a new victim: Nordstrom.
The 37-year-old "activist investor" without a college degree or a lick of experience before stumbling into the pot of gold that was the online pet store he founded has decided to take a massive position in the struggling retailer.
Now one of the 5 largest non-family shareholders, Cohen has amassed this stake despite not speaking with the board in "several years," according to one Nordstrom board member.
Once again, Cohen is going after his presumed arched nemesis, Mark Tritton, who was the former CEO of Bed, Bath, and Bankrupt (fired last year). Cohen's beef appears to be that Tritton is a scumbag who just hops from company to company hoping to pay himself as much as he can. I have no clue if that's true (gut says it probably is), but let's hope Cohen doesn't bankrupt an army of retail traders yet again.
Clorox ($CLX) ↑ 9.77% ↑
If Cohen really wanted to clean the above mess, he should invest in some Clorox. Oh wait, everyone else already did, and as a result, shares popped nearly 10% on Friday.
The very clean party started after the conglomerate reported stellar earnings figures, beating on both sales and EPS. The company's bottom line beat by over 50% while sales crushed estimates as well, raking in almost 10% more than anticipated.
This is one of those companies that saw a huge benefit from the pandemic, as panicked people everywhere flocked to scrub everything in sight or inject cleaning products into their veins, as one former US President creatively suggested.
Still, despite coming off a few already-strong years, Clorox continues to kill the investing game like it kills germs and bacteria.
Skechers ($SKX) ↓ 9.15% ↓
Does your dad need new shoes? Father's Day is still a long way off, but based on Sketchers 2023 guidance, they sure hope he needs a new pair (or seven) soon.
Shares in the memeable yet beloved shoe company plummeted nearly 10% on Friday despite some pretty solid quarterly numbers. EPS beat by a wide margin, registering $0.48 on the bottom line vs. the $0.38 expected. Sales beat by about $100mn as well, so why are investors lacing up to run away?
One word: guidance. Sketchers made the mistake of telling the truth about what it expects for 2023, and as dads are probably not prioritizing some sick new sneakers during a recession, investors aren't prioritizing owning this stock.
Ford ($F) ↓ 7.61% ↓
Google and Apple Maps are great, but Ford seems to have lost just about all of its own ability to navigate this market.
The stock veered off Wall Street on Friday, crashing into the oncoming traffic of sellers and bears alike. Sales numbers beat estimates, and earnings missed by a fat margin, sending shares rolling over the guardrail.
Much like today's Macro Monkey, what's old is new again at Ford. Although the firm is moving merch (aka cars) decently well, largely thanks to a broadly successful EV launch, Ford and CEO Jim Farley simply cannot escape the wrath of cost pressures.
And it's barely even an inflation thing. Supply chain disruptions brought on by C-19, particularly in semis, are still dominating the firm's P&L almost 3 years on. Production came up short despite an extra $1bn in costs incurred because production keeps coming up short. Oh well. Like a win is a win, a loss is a loss, only here it's Loss with a capital L.
Go Hard or Go Home
Former Navy Seal and online superhero David Goggins has a saying: "Stay hard." When it comes to incorporating data into investment ideas (as well as some other things your dirty little mind is probably thinking), we couldn't agree more.
While we wish we could always stay hard (we can't), new data suggests that this is crucial in making bets on financial markets. In case you skipped over the above chart (you scumbag), go back and take a look.
Essentially, what we're looking at here is a comparison of the feelings of market watchers and participants about the current economic state compared to the actual economic state, as shown by things like GDP data. It's "hard" vs. "soft" data, like facts vs. feelings. In case you forgot that facts don't care about your feelings, here's digital cult leader Ben Shapiro to remind you.
As you can see, hard and soft data are generally somewhat strongly correlated. It's not Jason Momoa strong, but more like Chris Pratt before the diet.
But, as you can also see, during times of greater economic stress, those factors diverge like Fox and MSNBC. From this, we can learn two basic things:
Sentiment is only reliable when the economy is at its least volatile, and
Like dogs and the bond market, you can only really trust hard data. Might wanna throw that survey data away real quick.
That first one is as obvious as stating that grass is, in fact, green, but seems to go unnoticed in practice. During times of economic stress, people seem to flock to the pontifications of market pseudo-philosophers like they're reading macro-gospel. Don't take any one opinion too seriously (except for mine, of course).
That second one is less obvious but passes the sniff test kinda automatically. The real lesson here is to put far less weight on soft data than hard, especially during times of heightened economic uncertainty.
When it comes to making investment decisions, be like David Goggins and stay hard. If ever in doubt, just remember the words of our boy Nassim Taleb below.
Friday - Four investment bankers need to cross a bridge at night to get to a meeting. They have only one flashlight and 17 minutes to get there. The bridge must be crossed with the flashlight and can only support two bankers at a time. The Analyst can cross in 1 minute, the Associate can cross in 2 minutes, the VP can cross in 5 minutes, and the MD takes 10 minutes to cross. How can they all make it to the meeting in time?
First, the Analyst takes the flashlight and crosses the bridge with the Associate. This takes 2 minutes.
The Analyst then returns across the bridge with the flashlight taking 1 more minute (3 minutes have passed).
The Analyst gives the flashlight to the VP, and the VP and MD cross together, taking 10 minutes (13 minutes have passed).
The VP gives the flashlight to the Associate, who recrosses the bridge taking 2 minutes (15 minutes have passed).
The Analyst and Associate now cross the bridge together, taking 2 more minutes. Now, all are across the bridge at the meeting in exactly 17 minutes.
Today - It's 100 bananas off the WSO's PE Deals Process Course for the first 10 correct respondents. LFG!
I have a gold bar that weighs 7 kg, and I would like to give 1 kg of gold to a person every day for a week. I am only allowed to cut the bar twice. How can I do this?
Shoot us your guesses at [email protected] with the subject line "Banana Brain Teaser" or simply click here to reply!
"Don't tell me what you 'think'- tell me what you have in your portfolio." - Nassim Taleb