For those of you interested in, or working in Equity Research, why are you interested? Is there any specific event that you could point to that sparked your interest?

why are you interested in research?
Despite its interesting nature, often times equity research positions are overshadowed by this website's focus on IB and S&T. However, it is a very interesting career path and our users explained why they wanted / want to work in ER below:
User @Mr. Skilling", an asset management investment analyst, shared why he is interested in ER: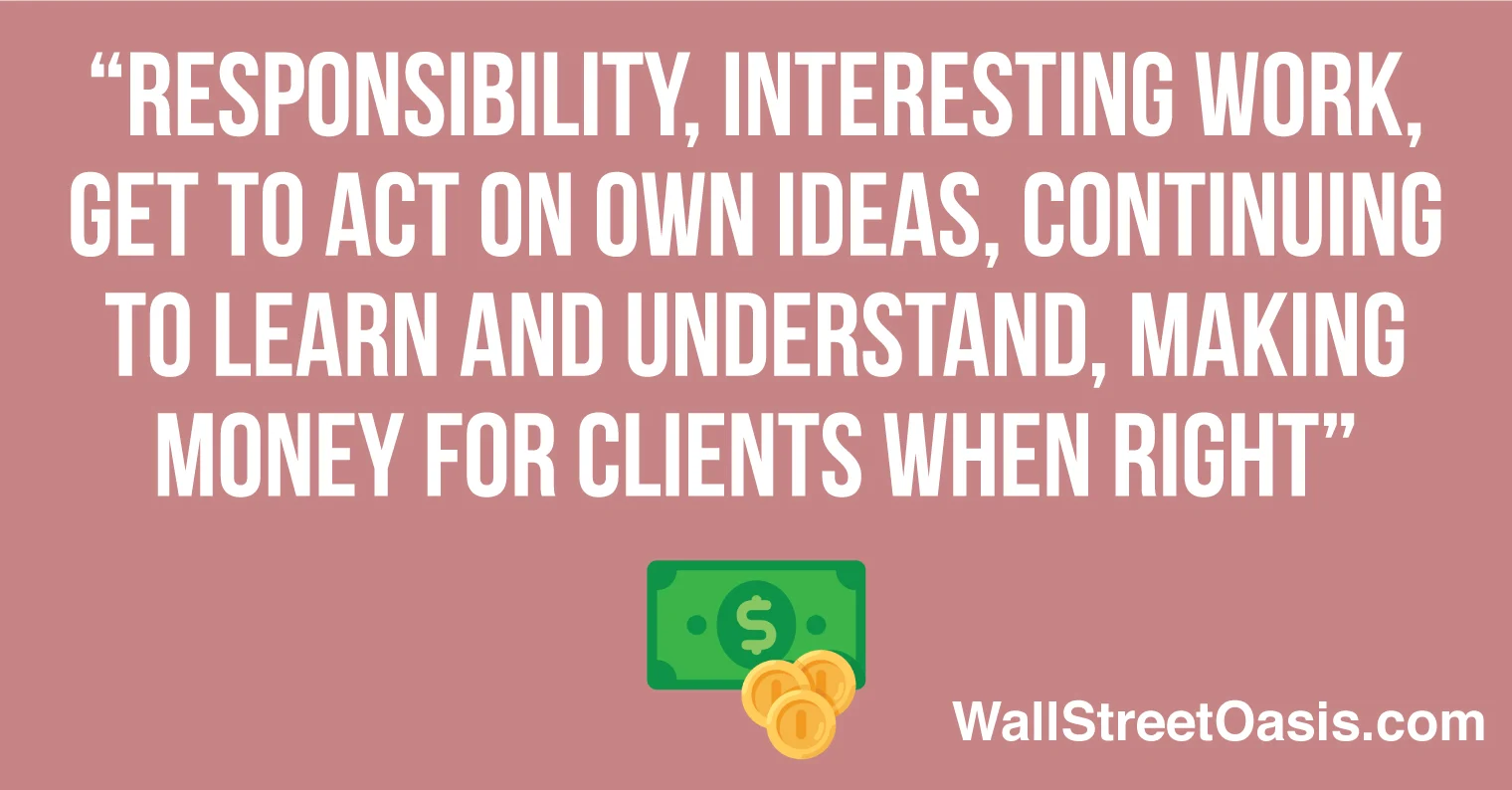 It is a very unique role that offers a lot of responsibility and interesting work to people a few years out of college
I can call up a CFO of a company I cover right now and pick his brain on his company's options, Management Strategies, what the industry is looking like
I get to do research and model (with some input from team members) my own ideas and create a differentiated point of view vs. consensus and provide some value to HF/AM PMs and Analysts that are 2x my age and manage millions if not billions of dollars. It's pretty incredible to hear someone like that say "Thank you for your time, Mr. Skilling, I really appreciate your insight on ABC stock."
Every day is different in the markets. Something new happens and things are constantly changing
Something cool about having your name on models and reports that you put out to hundreds of clients in the industry and getting some recognition vs. being a pitchbook monkey
Nothing is cooler than being right on a big call and making clients money (JK - making that money myself would be great but that's another story)
You learn a SHIT ton. Every day you are reading, reading, reading, and reading some more and expanding your knowledge base. While the hours are long, I feel like one day I will be exchanging my knowledge and experience for more money and an even more important role for slightly less hours. The more you learn, the more you earn.
Lot of exit opportunities as well. A solid analyst can be picked off by a number of different roles/firms (HF, AM, corp. dev., IR, etc.)
why ER interview question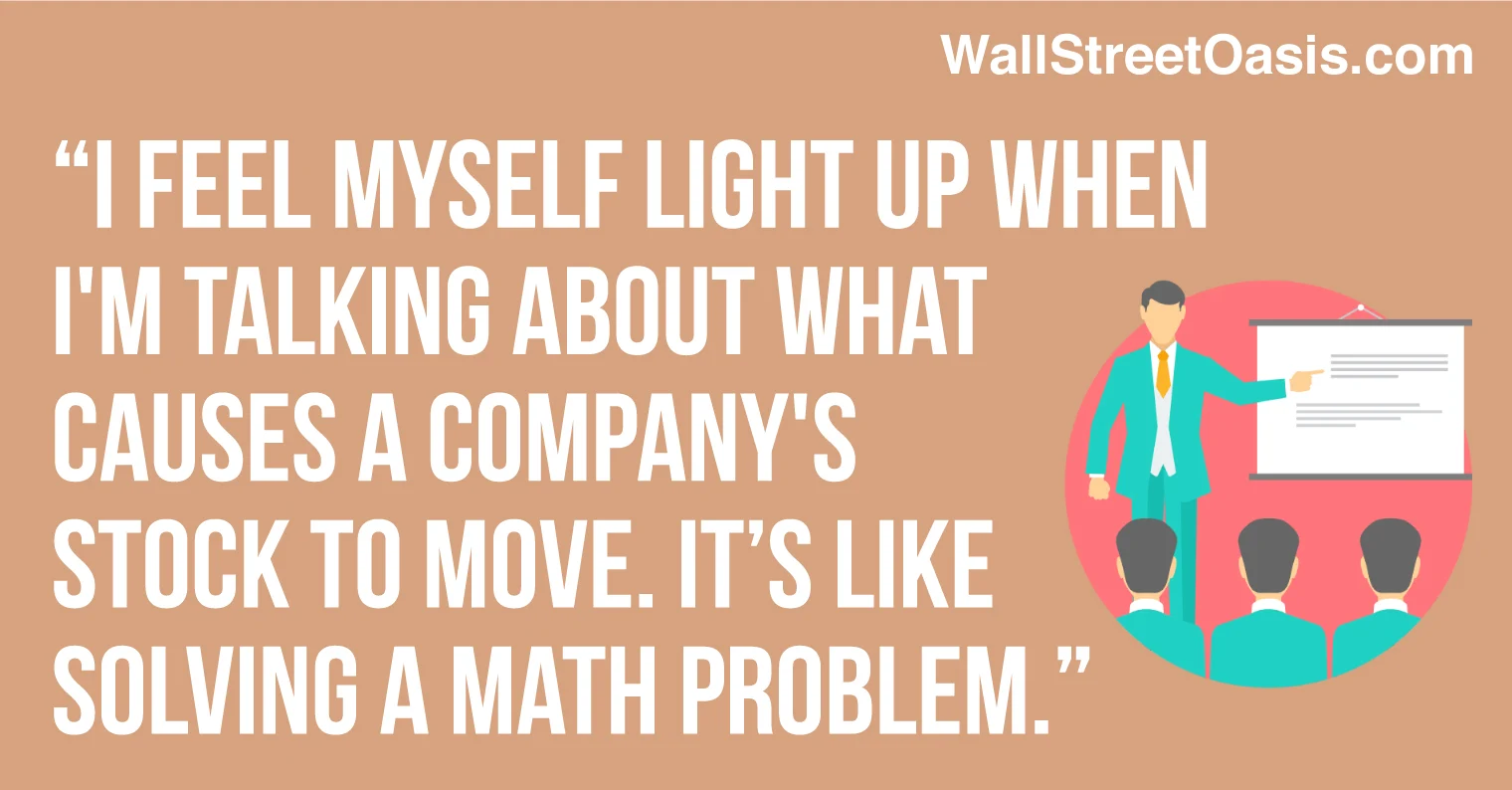 I love knowing WHY revenue is down, or WHY market sentiment for a stock is up because it means I don't just understand the surface, but the entirety of what the company is and why it ticks the way it does.
I am attracted to ER because I feel myself light up when I'm talking about what causes a company's stock to move. It's almost like solving a giant math problem where all the numbers click into place and you get it.
More of an intellectual environment. Develop a better overall understanding of how the world works (my top reason). You have to learn not only how to model but actually think about the assumptions behind the model (banking you just kind of copy mgmts model and tweak from there). You can have a direct input on where billions of dollars get invested.
Compared to banking you dive much deeper into learning about companies as opposed to how to structure deals.
Check out the video below to learn more about the job of sell side equity research analysts.
You can also check out a detailed thread comparing buy side and sell side research roles.
Read More About Equity Research on WSO
Decided to Pursue a Wall Street Career? Learn How to Network like a Master.
Inside the WSO Finance networking guide, you'll get a comprehensive, all-inclusive roadmap for maximizing your networking efforts (and minimizing embarrassing blunders). This info-rich book is packed with 71 pages of detailed strategies to help you get the most of your networking, including cold emailing templates, questions to ask in interviews, and action steps for success in navigating the Wall Street networking process.