Loan Amortization Question - PMT Slightly Off
Hi,
I have the below information/beginning of amortization schedule. Even though Term is only 10 years, I took the schedule out to the full 25 year amortization just to confirm my payment calculation was correct.
The PMT formula (below) was giving me a payment of 9,279.87 and an ending balance of 2,792.71 after 300 months. I had to add $4.29705 to the monthly payment in order to get the ending balance to zero after 300 months.
The interest is calculated as actual/360.
My PMT formula is PMT(((5.5%/12)*(365/360)),300 months,-1,500,000,0)+4.29705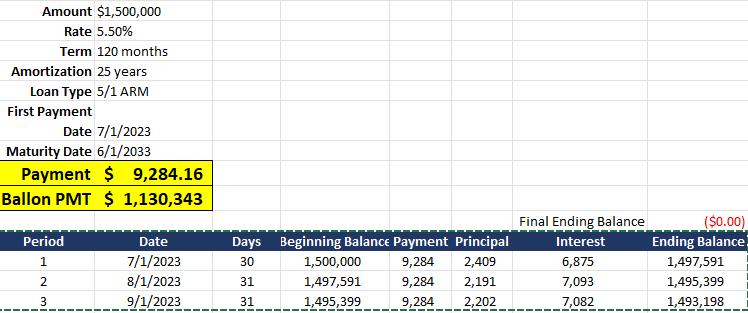 I have a feeling the issue is with leap years over the full 25 year term, but I just want to confirm with people here. Is there an excel formula tweak that I need to make?
Obviously the discrepancy is small, especially when looking at the balloon payment in year 10.
Most schedules have beginning balance plus current month interest = final pmt trigger (balloon payment) when the loan ends/is paid off.
I tried other mortgage calculators online and was getting the same results. Is this just a known discrepancy? Any tricks to get the schedule to fully amortize without resulting in crude PMT adjustments?