After a 2 months pause, Levered Hedge is back. Recruiting is pretty much all over and focus has turned to preparing for summer internships. One of the main concerns of every intern is in the attire arena, as for many this may be the first time you have to dress for a business environment for an extended period of time.
This article breaks down everything you need to buy before the start of the internship, as well as useful things to keep in mind during the internship. A lot of the info might seem a bit basic, but it has to be said as there are way too many mistakes made by interns.
One thing that I will say for everything, do not be fooled by brand names. The most important thing is fit.
Main Rules for Internship Wardrobes
Main Rule 1: If you keep having double thoughts about something, then don't wear it.
Main Rule 2: Impressions are everything as an intern.
Main Rule 3: As long as you are not standing out, people don't really care about you.
Suits: Single Breasted, Navy or Charcoal
Navy or charcoal in color. Do not wear a black suit or something overly light unless you are 100% sure that you can pull it off (think Main Rule 1).
Single breasted only.
Try to look for lighter fabrics.
Once you buy any suit, go to a tailor and he will make it fit perfectly, this is crucial to getting a good fit.
TOP TIP: Buy 2 suits each with 2 pairs of trousers. This way you have 4 pairs of trousers that you can rotate and always have a matching suit jacket. Then leave your 2 suit jackets at the office, and if you need it then you can simply take the matching jacket.
Shirts: Long Sleeves, Avoid Brash Patterns and Colors
As long as your shirt fits properly, has long sleeves, and isn't a brash pattern or color then you are fine. Make sure to not wear anything that is overly dark. If you go with white, buy some of the thicker weave ones or wear an undershirt.
If you are on a budget Marks and Spencers/TM Lewin/Charles Twyrhitt are a good place to start and always have sales on.
Quantity: I would advise a minimum of 10 shirts (ie 3 white, 3 blue, 4 other). You do not want to be scrambling for shirts or re-wearing any because you didn't have time to do laundry or do your dry cleaning.
TOP TIP: Keep a spare white shirt in the office at all times.
Shoes: Keep Them Clean and Match Your Belt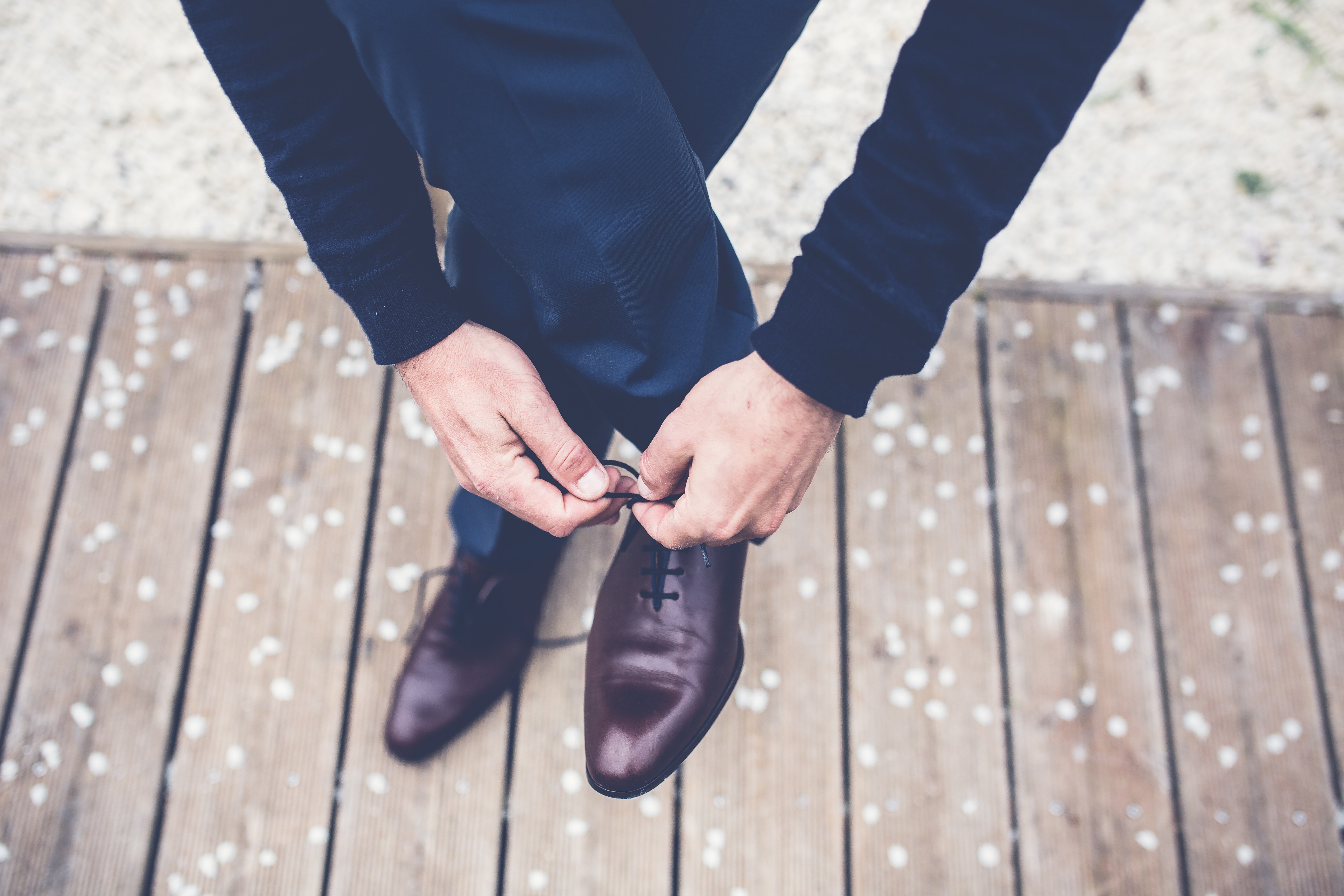 Disclaimer: I am a huge loafer fan and I am not afraid to wear loafers with suits. Keep in mind that some may look at this as a fashion faux pas.
As long as your belt and shoes match and the shoes aren't something that stands out, then you are fine.
TOP TIP: get some shoe trees and try to alternate shoes so that you do not wear two pairs in a row. This will prevent them from starting to smell. Also make sure to get them shined every couple of days.
Belts: Not Too Flashy, Just Match Your Shoes
Your belt NEEDS to match the color of your shoes. Also stay away from the big H Hermes belts. It will never do you good and can only hurt you as it may rub some people the wrong way.
Remember Main Rule 2.
Socks: Match Your Suit Pants
Color of socks needs to match the color of the suit pants.
Go to any big department store and grab 10 pairs of black socks and 10 pairs of blue socks.
Ties: Invest in High Quality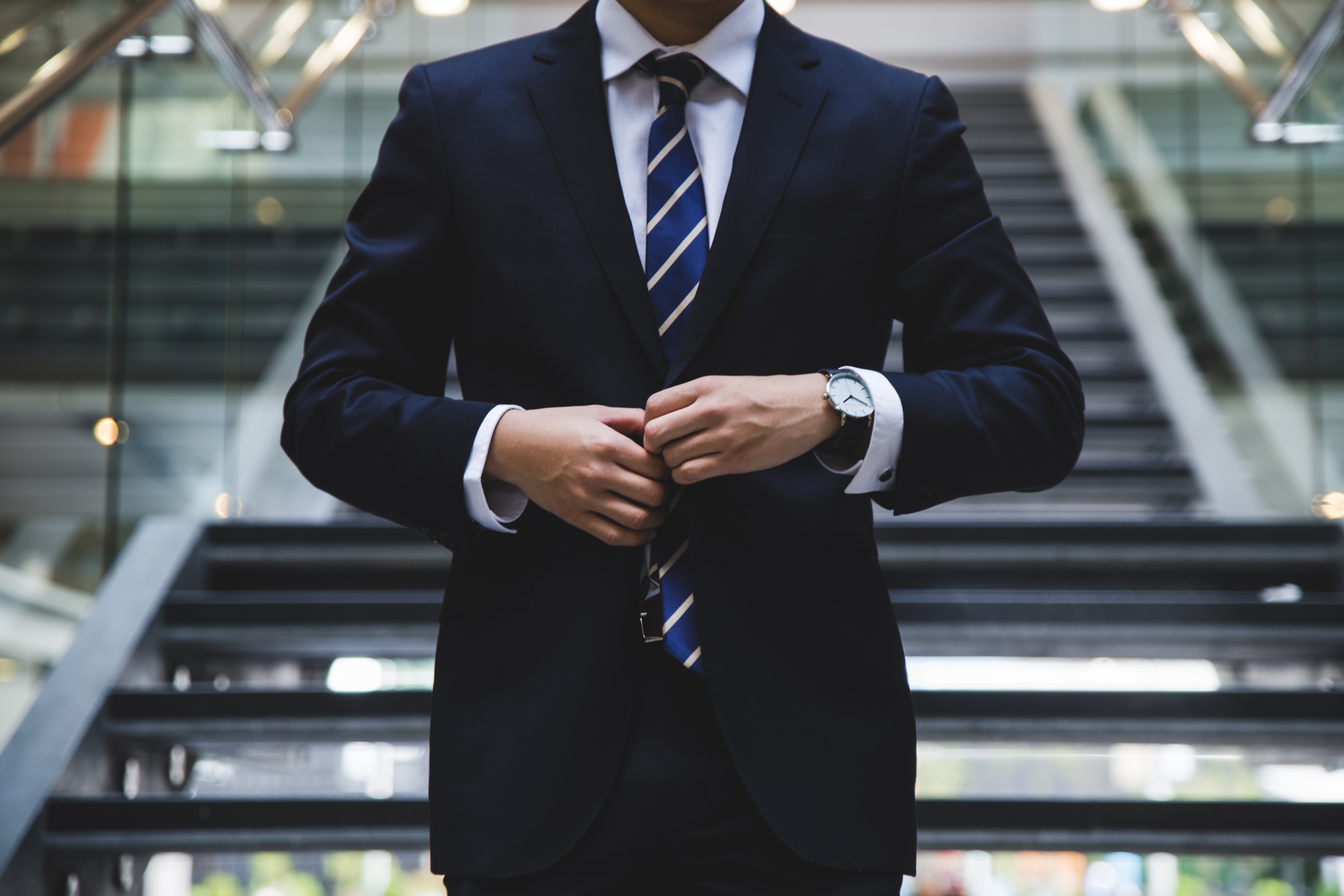 In S&T, unless you end up on a desk where the culture is somewhat formal (Nomura), then you will need one tie.
Find a tie that matches most of your shirts and just keep it at the office. The only times you will need a tie is if you are going to a meeting with a client.
Make sure to buy a quality tie, silk woven and be prepared to pay close to a 100 USD. You can go for brands just not the ones where its blatantly obvious (ie Hermes).
Undershirts: V-necks Only
Undershirts are a personal preference and depend largely on how much you sweat. If you find that sweat stains develop very easily then put on a light undershirt.
V-necks only, a crew neck under a dress shirt just looks sloppy.
TOP TIP: Make sure to get undershirts that are long enough if you are going to wear them. If they are too short they will come untucked and result in a huge amount of bunching above the belt.
Casual Friday: Ease Into It
If your office has a casual Friday, then make sure to ease into it.
Do not wear jeans your first Friday. I would always say to let one intern make the jump first and then see the reaction. At the end of the internship, most interns were in jeans on a Friday.
FINAL LIST OF THINGS YOU NEED
2x suit
4x suit trouser (2 for each suit)
5x undershirt
10x dress shirt
10x pairs of socks
2x belt
2x shoes
1x tie
Related Reading