I Hope You Fail
PE
Points)
on 6/17/12 at 11:00am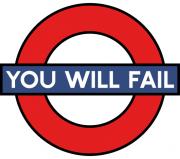 I'm going to come out and say it straight away. I hope you guys don't get front office jobs. I hope you don't even get Middle Office or back office jobs. In fact, I hope you enter a field as far removed from finance as possible.
No, this isn't some TED talk or a motivational speech where I tell you to pursue your passion. This is from a guy who spent a ton of money, endured hundreds of awkward networking calls, and risked firms calling the police on him to break into the industry.
This is from a guy who is horrible at interviews and had to spend eight hours a day practicing his answers to common behavioral questions like "Tell me about a team situation" in front of the mirror and in front of friends.
This is from a guy that's currently working for next to nothing (by any reasonable standard) in order to gain experience and start building his career. I don't want to be competing against thousands of kids for the same spot. I don't even want to be competing against a hundred (again, bad at interviews).
Go ahead, throw your rotten tomatoes, monkey shit at me. I don't care. Trade places with me and see the reality. Most of us are entry level grunts and we're all completely interchangeable.
Why can't your employer replace you with the next warm body that knows how to use Excel and will work for less money than you? Why are you different or special?
Don't give me some bullshit about adding value, because quite frankly no one can add value coming out of undergrad. You're not necessary. For the record, no one likes your jokes.
Honestly, I'm not an asshole, I'm just trying to help you out. You have to look out for yourself first. It's something that I've had to learn quickly. If that means pulling ridiculous hours, working until you pass out, then that's what you have to do to differentiate yourself. You can't just sit around and hope that the Boss Man drops a huge bonus check into your lap. You have to move with the knowledge that there's some guy/girl breathing down your neck who will not hesitate to take your job if you get complacent, especially in this economy.
Your finance job isn't safe. You aren't safe.
So, prospective monkeys, please, go ahead and attend that info session on management consulting or corporate development (I hear they have great hours).