WSO Campus Representative Program
O
)
on 3/2/14 at 12:00pm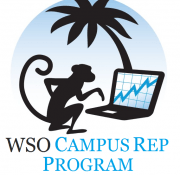 Students around the world: WSO is now accepting applications to be a Campus Rep at your school for the second half of the 2013-14 school year. We are looking for motivated students with a solid work ethic and strong communication skills who are willing to commit for the entire 2013-14 school year (or remainder of if applying later). Spots are limited at each school (max of ~2 per school) so get your application in ASAP.
Our Campus Reps help us by spreading the word on campus, online promotion, bulk sales efforts for our finance and career guides, and other promotional activities. Perks that reps receive include free WSO guides, 3-month access to our video library, 1 year access to our Job Board, letters of recommendation from Andy and Patrick, prize $$$ for the top reps, and more.
Click inside the post for more information and to formally apply >>>
IMPORTANT NOTES WHEN APPLYING
1) Please apply with a non .edu email address (e.g. please use your gmail/yahoo/hotmail etc account).
2) Please add my email ([email protected]) to your contact list on your email to ensure none of the training emails go to spam.
3) If you use gmail, some or all of the training emails will go to your promotions tab, make sure to keep an eye out on this page
4) If it takes you to a blank page when you click on the "Apply to be a Campus Rep" button below, please click your browser's back button to to submit your information again - it will work on the second try. Thanks.

--------------------------------------------
FAQ'S:
Q: What is the primary activity you expect the reps to do?
A: Promote WSO both online and offline to anyone who might be interested in the site: e.g. fellow students, members of relevant clubs, friends at other schools, etc. There are several other tasks we ask reps to do; these are described during the rep training program.
Q: What is the time commitment you ask for?
A: An average of 5 hours per week (not including weeks you are on vacation) and we expect reps to commit to the full 2013-14 school year (or remainder of if they are signing up late)
Q: What's in it for me? i.e. what are the tangible/intangible benefits and perks of being a rep?
A: Reps can qualify for all of the following:Free WSO Guides (11 total guides, $300 total value), free 3-month Video Library access ($60 total value), free 1-year Job Board Access ($100 value) and Company Database/Compensation Report access (free, but requires 3 submissions to the database). PDF Letter of Recommendation from Andy, Andy can serve as a reference for internships/jobs, Linkedin Recommendation from Andy & Patrick, free 2014 WSO Conference ticket (top 10 reps), Prize $$$ for top 3 reps who meet the minimum points, plus much more. (Some of these perks are given during the rep term, some after successful completion).
Q: How many reps do you typically have and from what schools?
A: At the peak of the past rep term there were 60 reps, Currently (9/3/13) there are about 25 but we are quickly growing.
Q: Can there be more than one rep at a school?
A: Yes there can be a max of 3 reps per school, particularly larger schools. We prefer reps to work together on projects when possible.
Q: How do I know which schools have reps / if my school already has a rep?
A: I will post an updated list in mid-late September 2013.
Q: Do I need to be an upperclassman or can anyone apply?
A: Upperclassman are preferred, but any student is welcome to apply.
Q: Can MBA/MSF students be reps too? Or is it only for undergrads?
A: Yes definitely, we have had several reps at grad programs, including INSEAD, Darden, Columbia Business School, and more.
Q: Can international students be reps?
A: Of course! We've had reps from all over the world. In the past about 70-% have been in the US, 15% in Canada, and 15% in Europe.
--------------------------------------------
IF YOU FEEL YOU WILL BE TOO BUSY AND NOT ABLE TO COMPLETE THE FULL 2013-14 SCHOOL YEAR (OR REMAINDER OF IF YOU JOIN IN LATE) PLEASE DO NOT APPLY, THANKS.
We look forward to hearing from you and having you join the WSO team!
Thanks,
Andy (Rep Manager) & Patrick (Chief Monkey)
--------------------------------------------

Patrick speaks the benefits of being a Campus Rep:
Putting "Wall Street Oasis" on your resume when you are trying to break into Wall Street is a way to demonstrate an interest in finance. Even if it is just 1-2 bullets -- showing some relevant experience is important.
Being a Campus Rep is a great option to those that are having trouble breaking into a bank and/or want to supplement what they are already doing to make themselves more competitive. For many of our previous reps, the experience has helped them tremendously. We want to make sure you also gain a lot from the rep position which is why we offer so many perks.
If you do a great job, I am willing to serve as a personal reference for you -- anyone that shows a dedication to help the WSO community is someone I want to help. We are a very lean team so there are many opportunities to get a wide range of experiences upon successful completion of the rep position (if that is what you're looking for).
I have written many LinkedIn endorsements for our best Campus Reps. Many of them now have me as a personal reference any time they are applying for jobs because they went above and beyond my expectations.
— Patrick Curtis, Chief Monkey
Testimonials
By being a WSO Campus Rep not only was I able to promote a great resource to students, but also enhance my marketing skills. Successfully creating partnerships with student organizations on campus was a great learning experience. And getting access to the WSO guides was extremely beneficial. All in all, being a campus rep was a great experience and I'd do it again.
— Arnav (Campus Rep, fall 2012)
Through word of mouth, social media, and other avenues, a lot of people on campus know that I'm the campus rep for WSO. Considering the rate at which the website and its influence are growing, its a really cool thing to be known for. Every now and then I have people coming up to me, particularly in class, asking me questions ranging from 'Do you think I can find information on company XYZ if I visit WSO?' to 'If I have an interview next week for XYZ, which guide should I get to study?' Being able to give direct advice that actually provides helpful results, is pretty awesome.
— Fabio (Campus Rep)
Being a WSO rep has not only broadened my knowledge in the several fields of finance, but also gave me an amazing inside scoop on working for different companies and helped me prepare myself better for interviews across the board for different firms. It offered me an amazing opportunity to network and be among bright and like-minded individuals whom I was able to feed off their industry experience but also give back knowledge that I acquired to give advice to those that came to me. I have done a couple of financial internships but in the end decided to switch to a management consulting route; Andy and Patrick were more than supportive to this decision and as a top intern for WSO, they were able to introduce me to people of senior management or above at Accenture. Through speaking to Hailey Hu and Ben Rhee whom are at analyst and senior management level, I was able to not only get their expert knowledge on getting into the firm, but also had my resume pushed through the referral system for fall recruiting. Coming from a non-target business school, it gave me a fighting chance to get into this management consulting powerhouse.
— Harrison (Campus Rep)
I take pride in the fact that the WSO presence and influence has increased on my campus among students. WSO has always been a favorite of mine and it makes me happy to share it with others. I love the look on people's faces when they find that WSO can not only answer questions they have about finance, but entertain them as well. So far, being a campus rep has allowed me to already start giving back to my school and I am excited to continue doing so.
— Griffin (Campus Rep, 2012-Present)
Being a WSO Campus Rep has been amazing. Not only was I able to provide a great resource to my fellow students, I was also able to market myself well to the different schools within USC that I promoted WSO to. It has definitely been very rewarding time during my college experience, and if asked the question 'would you be a campus rep again next semester', I would give a hearty 'yes' as an answer.
— Sam (2013 Campus Rep)