Sales and Trading - A Comprehensive Guide
What is the difference between Sales and Sales Trading? I know what Sales and Trading is, but I don't understand the difference between the roles called sales and sales trading. Does sales only speak to the client to get the best market prices or does sales trading do that? Can't tell the difference

What is Sales and Trading?
There are two primary functions to sales and trading. Here is a basic idea of each of those functions:
Sales: Pitch the firm's ideas to clients to sell securities and build relationships with clients.
Trading: Trade securities, typically in two ways (there are other means of trading, see "Different Kinds of Trading" for more on that): trading for the client or trading with the firm's capital (called agency trading and prop trading, respectively).
Prop Firm vs Hedge Fund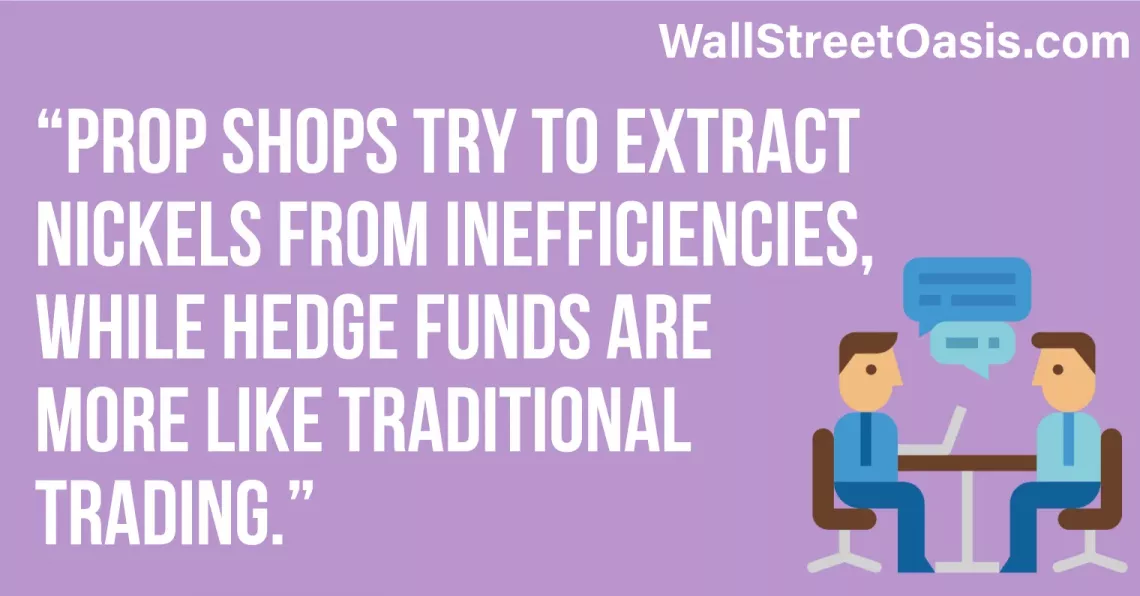 Prop shop trading and hedge fund trading are two different beasts that are frequently mixed up. Here are the differences between the two, explained succinctly, from @derivstrading".


Prop shops, in general, are smaller and more nimble, and try to extract nickels from all over the place due to inefficiencies. (Some do it with statistical models; some with speed of execution; etc.) That is why you usually find prop shops in liquid and exchange based products, such as options and cash equities, for example. They tend to have very low overheads and capital requirements and are therefore usually seeded by the guys that started it/run it. There aren't outside investors, such as pension funds. This means they can make more in "performance fees" with less AUM.
So why are hedge funds all the buzz in the finance world instead of prop shops? There's less influence on your trading from outside forces, less overhead, and less capital required for the same returns.
One huge difference between the two is in the investing style. Hedge fund trading is more along the route of what is traditionally known as investing, while prop shops operate more along the line of short-term trading. Prop shops hold securities for a much shorter period of time, and they try to squeeze out a quick profit from those holdings.
Is S&T a Dying Industry?
S&T has been a shrinking field for years now. Here's the main determinant from @big unit", who refers to the trading floor as the shrinking jungle.
The trading floor is an awesome place, but it's shrinking. Regulations are putting a cap on how much risk many desks can take. Prop desks have gone on the sell-side, and have been replaced by small directional bets within flow trader books.
Because of this, fewer spots are available. While the number of students looking to get into S&T is only slightly decreasing, senior traders remain in the same position as there are fewer openings at other firms. Beyond regulations crushing trading desks, technology is adding a major strain.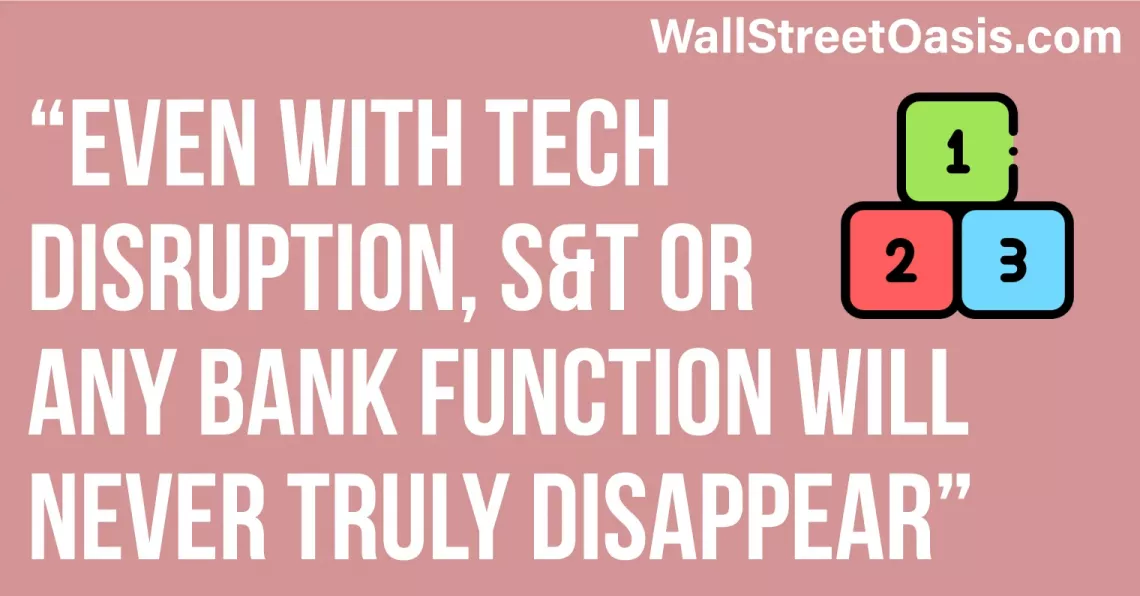 Yet, trading will never cease to exist as many tend to believe. The above isn't to scare you away from trading, simply to warn you of the fact that the industry is changing, and with those changes, headcount is decreasing. Here's @Kassad" on why the sentiment that trading will be eliminated entirely is incorrect.
All of these businesses will change and continue to change for as long as capital markets exist: M&A will always be necessary in some form, the S&T function will be a necessary tool for moving capital, Research will be a necessity to transmit information from originators to clients, and all the other core functions of a bank will continue to fulfill their purpose as required. All of the roles will change with the coming of new technology, laws, and industry standards, but they will not "disappear."

Okay, to think that any of these businesses will be "gone" any time soon is to lack an understanding of what they fundamentally are/do.
Sales and Trading vs Investment Banking
People love comparing S&T to investment banking - they're both highly prestigious jobs that pay great. But they don't come without their differences, so if you're considering a career in either of these fields, then you need to consider what separates the two.
Salary
Compensation in S&T is roughly comparable, if slightly less, than the compensation in IB. At the analyst level, you can expect to make around $120k first year. As you move up, that figure increases significantly. Managing directors can make anywhere between 500k - $1m. That said, IB all-in compensation tends to be a tad higher than S&T, and that difference grows a little as you move up the ladder. The top performers in S&T certainly make more than IB, but those top performers are becoming rarer and rarer, more on that later. In both fields, bonus makes up the majority of your all-in compensation by the time you're a vice president.
Role
Investment bankers, at least at the analyst level, are known for being mostly grunts. The type of work analysts do is almost entirely mundane. Sure, there's some exciting work dabbled in there. Executing that mega deal you've been working on for months is exhilarating, and there's no doubt that it's a time of immeasurable learning.
The work S&T analysts do is highly variable once they reach a certain point, but at the beginning, it's comparable to IB (the key difference being the fewer hours). For first and second year analysts, it's a lot of the same stuff. Similar to investment banking, the work of S&T analysts is mostly grunt work. Here's @Gekko21" on what that includes:
Learning the product, sending out reports, conducting research, making spreadsheets for the desk, answering phones, and sending out early morning offer sheets are all things you will be doing for the first year or so.
The difference is that after a period of time - anywhere from 3 months to a couple of years, depending on your performance - you get significant responsibility, and your role changes.
On the trading side, the work greatly depends on one factor: getting your own book. Some people get their book within three months; some get their own book after a couple of years. It all depends on how much responsibility you shoulder, how capable you are, and how well you're received.
Hours and Lifestyle in S&T
Everyone knows IB hours are brutal, typically 80+ hours a week. How does S&T compare? S&T analysts typically put in around 60 hours during the week, with some weekend work depending on how motivated you are. Once you start working with clients in sales or get your own book in trading, your hours and lifestyle are determined by you.
An Introduction to S&T
If you're looking to get into S&T, there are two things you should do, in particular, to prepare (outside of preparing for interviews and such): reading and trading. Reading to prepare is another beast. It's something you should do to expand your breadth of knowledge as much as possible. Here's a list of books you should read before you hit the desk from @Ironchef".

All junior traders on my desk were told to read the following:

1) When Genius Failed
2) Fooled by Randomness
3) Reminiscences of a Stock Operator
4) Trading in the Zone
5) Market Wizards (all 3-4 books)
6) Liar's Poker
7) Steidlmayer on Markets: Trading with Market Profile
8) Technical Analysis of the Financial Markets by John Murphy