I'm making $8000/mo trading stocks. Should I keep this up or get an actual job? What do I even tell people?
Points)
on 6/16/12 at 3:00pm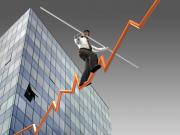 Hey guys,
I'm a 22 yro recent NYU (not Stern) grad. I only had one offer lined up at graduation but the employer cut back and sent out an email to all of us saying we won't be starting until September. And that's fine as it gives me more time to decide. The job is in accounting for $52k in new york.
But I've been day trading for the last 4 years and on average I make about $8000 a month doing that. I wasn't able to land a trading gig due to my grades. If I take a full time job, I won't have time to commit to day trading. And frankly, I suck at long term investing so I NEED to keep my eyes on the screen all day long.
My parents are against doing this because for one thing, they said profits are not guaranteed each year and there's no social prestige out of this so they want me to take the full time corporate job.
And as a social thing - what the hell would I tell people? That I make a living doing something I was toying around for fun back in my dorm room? Just the other day I told an alum at a conference that I'm "an independent trader" and he's like "huh? not enough luck in the job market nowadays huh? yeah, it's tough." i kid you not!
so what now fellow monkeys?