Non Target Success Story: MBB Summer Intern
CO
Points)
on 5/11/12 at 11:00pm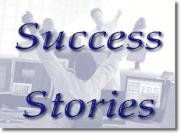 This site has really been an amazing help along my career path and I felt that it was necessary to try and give back to the community and hopefully give some hope to the fellow non targets out there that are trying to break in. I also wanted to thank everyone on this site who have been extremely helpful in the job search, specifically IlliniProgrammer and PeterGibbons as well as all those who contribute to the forums.
I am originally from a small town in the midwest and really had no clue about IB or consulting until after my first year of college. I chose to attend a lower ranked state school because I received a full scholarship and my middle class family could not afford some of the pricier, "better" schools that I was accepted to.
I knew coming from a nontarget that I would have to go above and beyond in order to differentiate myself so I sought out a boutique investment banking internship during the school year, got involved doing research with my department, and also had a F200 engineering internship my sophomore summer.
Going into recruiting Junior year, I thought I had networked enough, but what I soon learned was that there is no such thing as networking enough when you are coming from a nontarget. If I could do it over I would have made many more trips to NYC (I only made 1 and that wasn't until January). As much as I thought phone calls would be sufficient, actually visiting NYC to network will allow your alumni to put a face to the name and really help vastly more than 100 phone calls ever would.
I was able to receive a MM IB offer with a rising bank and also turned down a BB interview because I had already accepted this offer. Also got screwed when a S&T interview request for a BB where I had made a trading floor visit to actually got sent to my school spam folder and I didn't see it for a week or so. By the time I returned the phone call my window had closed. Moral of the story, check your spam folder! Seriously though, you know your school is a nontarget when an interview request with a BB gets sent to your spam folder.
Around this time, I applied on a whim to the three MBB, and although I had tried to network here as well, nothing really concrete panned out. By some miracle one of my online apps was actually read by a real person and I received a phone interview for an MBB summer intern position.
I put in a good amount of work studying for the interviews- read case in point, wet feet guide, wharton casebook, probably did ~10 mock case interviews with current consultants + 6 during interviews total. I really focused on structure as well as being very clear in my thought process and 3 rounds of interviews later I was able to come away with a summer offer from one of the MBB.
If I were to give any advice to those at nontargets now it would be to network, network, network and that if you put in the hard work you can get an internship at ANY of the top firms. I know for a fact that the only reason I got a look from the MBB was because I kept a very high GPA and had solid test scores as well to stand out coming from my nontarget school. That said, I think one of the most important things that I learned from the entire recruiting process was how critical being likable and sociable is to securing an offer. The thing that differentiates those that get the interview from those that get an offer is the connection and fit that you potentially have with the firm. If you have trouble relating to people I really recommend focusing on that AS MUCH as you focus on fleshing out the "experience" portion of your resume.
I think I was probably the first person at my school to get an MBB position from undergrad or MBA but hopefully won't be the last. I'm looking forward to helping fellow interested students break in and know that there are bright students everywhere. Thanks again to the community and good luck to those who are looking to break in!
Timmy