2014 WSO Rankings for Investment Banks: Overall Investment Banking Rankings (Part 9 of 10)
The WSO Community has spoken. Over the last month we have looked at the community rankings based on member reviews across a variety of Investment Banks. Without further ado...
Below you will find the following rankings:
Top 30 Investment Banks according to the WSO Community based on thousands of datapoints.
These firms are all ranked on a PERCENTILE basis across all 5,000 companies in the WSO Company Database based on thousands of WSO member rankings. Feel free to share the rankings below on your site by copying the html code below the graphic. Stay tuned because soon we are going to be announcing the WSO University Power Rankings for Wall St Recruiting!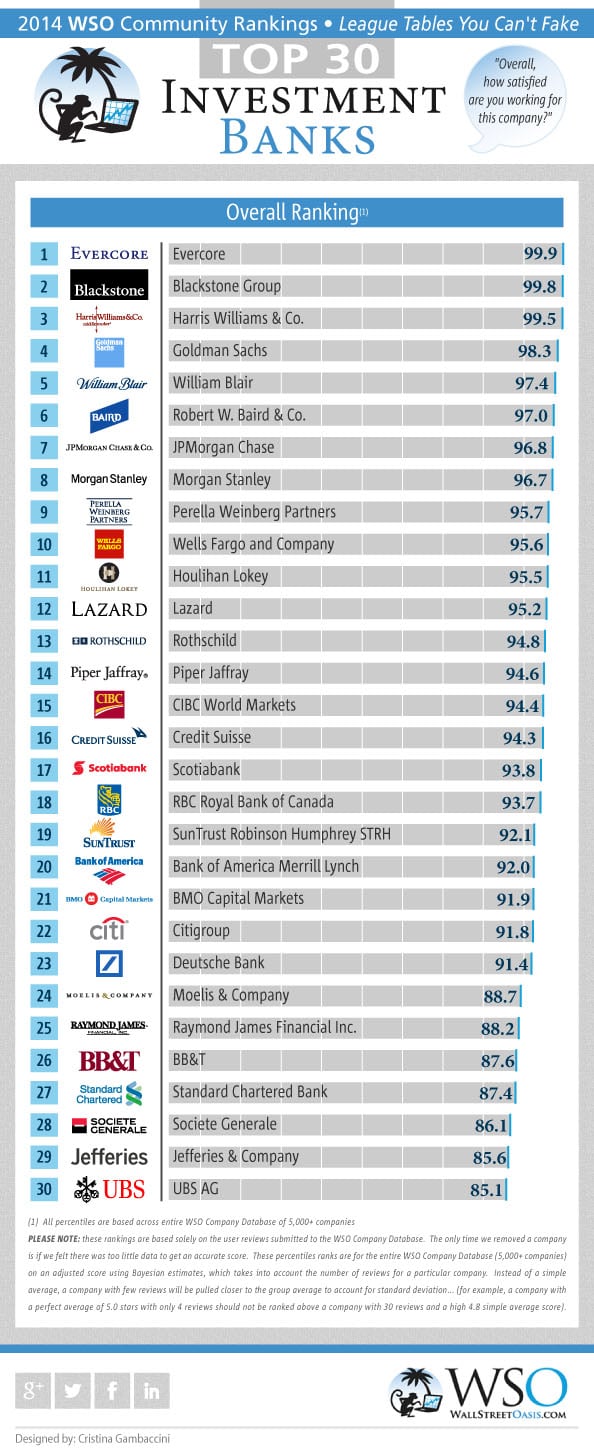 Share this Image On Your Site
Missed an earlier part of the 2014 WSO Community Rankings - Investment Banks? Click below:
Part 1: 2014 WSO Rankings for Investment Banks: Release Schedule
Part 2: 2014 WSO Rankings for Investment Banks: Career
Part 3: 2014 WSO Rankings for Investment Banks: Interviews
Part 4: 2014 WSO Rankings for Investment Banks: Promotions & Fairness
Part 5: 2014 WSO Rankings for Investment Banks: Compensation
Part 6: 2014 WSO Rankings for Investment Banks: Senior Management
Part 7: 2014 WSO Rankings for Investment Banks: Prestige & Pride
Part 8: 2014 WSO Rankings for Investment Banks: Lifestyle