NEW Financial Modeling Training Courses
We are super excited to announce 6 new WSO courses to help you develop the most critical skills to succeed in your finance career! We are offering a major package discount with lifetime access for all 6 courses.
New WSO Courses:
WSO Elite Modeling Package (6 courses above) - Learn More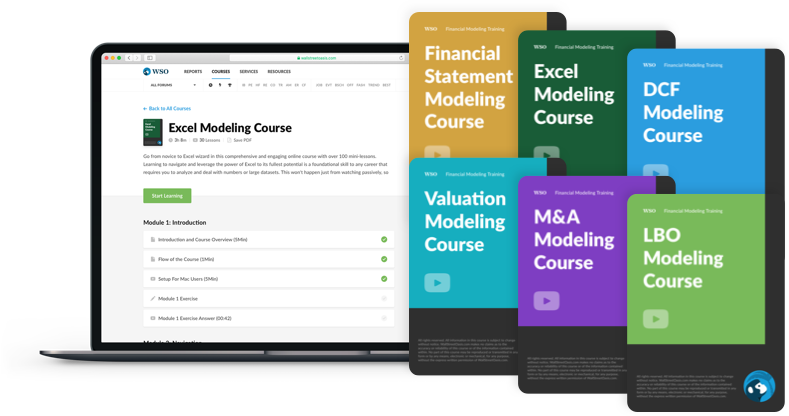 For over a decade, we have partnered with two great training providers and we endorsed their courses as a great way to help anyone looking to gain an edge and improve these critical skills…so the obvious question is...
Why create -- yet another-- Financial Modeling Training package?
It really came down to three primary reasons:
Access to Elite Pros. Given 1 million+ visits each month, the 750,000 registered members, and the 700+ mentors already working with WSO, we knew we could cherry-pick the best rock-star pros to develop and teach each course. ---- For example, instead of one person trying to teach all of the courses, we selected a megafund private equity pro to teach LBO modeling and a bulge bracket M&A investment banker to develop the M&A course and an M&A Director from an elite boutique to deliver the content. ---This allows our instructors to always give real-world context to the modules and lessons. On top of that, we lean on WSO's network to also surround each instructor with a team of 3 co-instructors (other rock-star professionals in that niche) to help vet each lesson. These pros come from Morgan Stanley, Goldman, MDP, Barclays, Moelis, KKR, Evercore (+ more) with direct relevant experience to the course material.
 
Better learning experience. - No more long boring lessons -- all microlessons, each with its own distinct learning outcome (well researched to help with retention) - Gamification (bananas!) to work toward real-life rewards (real incentive). - High-quality post-production on every video to help you focus on critical concepts and stay alert - Max the monkey! Alongside our expert instructors, Max will make the lessons a lot more fun.
 
Community and Mission. At the core, WSO is and always will be a community -- what better place to learn than in a community of like-minded students and professionals? One of the 3 missions we highlighted 14 years ago for WSO was...
To help every student and professional around the world, regardless of their background, develop superior career skills and access the same opportunities as those with the most privilege.
We truly believe that these courses are a critical step so that we can meet this final mission with more purpose. Our first announcement on this front was the launch of the WSO Financial Aid Program just a few weeks ago!
If you have any questions, we are happy to answer them in the comments or feel free to click through to the course descriptions below to get a better feel of what's included.
New WSO Courses:
WSO Elite Modeling Package (6 courses above) - Learn More
As always, thank you to all of the WSO members that make this community so strong and we look forward to serving all of you in this next exciting chapter! The WSO Team
UPDATES [March 2021]:  The team has been hard at work and we have the following updates...
PACKAGE CHANGES:  The WSO Foundations Package changed slightly.  We replaced the Financial Statement Modeling Course ($197) with the Accounting Foundations Course ($97) so we also lowered that price by $50 to reflect a bundled discount.  We felt like less overlap with the Elite modeling package made sense and Accounting truly is a foundational skill along with Excel and PPT, so it fit the package better.
ON DECK:  An Advanced Accounting course is in the works, ETA July 2021
RELATED:  Public Training Bootcamps are now LIVE (insanely discounted compared to what else is out there so they are selling out) and WSO is coming to a bank near you as we roll out more live corporate training.  Interestedin helping your employees get more efficient?  Book a Call