Private Equity Interview Questions - 13 Topics to Know
Private equity jobs are some of the most coveted positions in finance. That's why less than 1% of applicants end up with the job. This guide's goal is - if you follow its instructions - to drastically improve your odds from 1%, so you can land that private equity dream job.

Guide to Questions in a PE Interview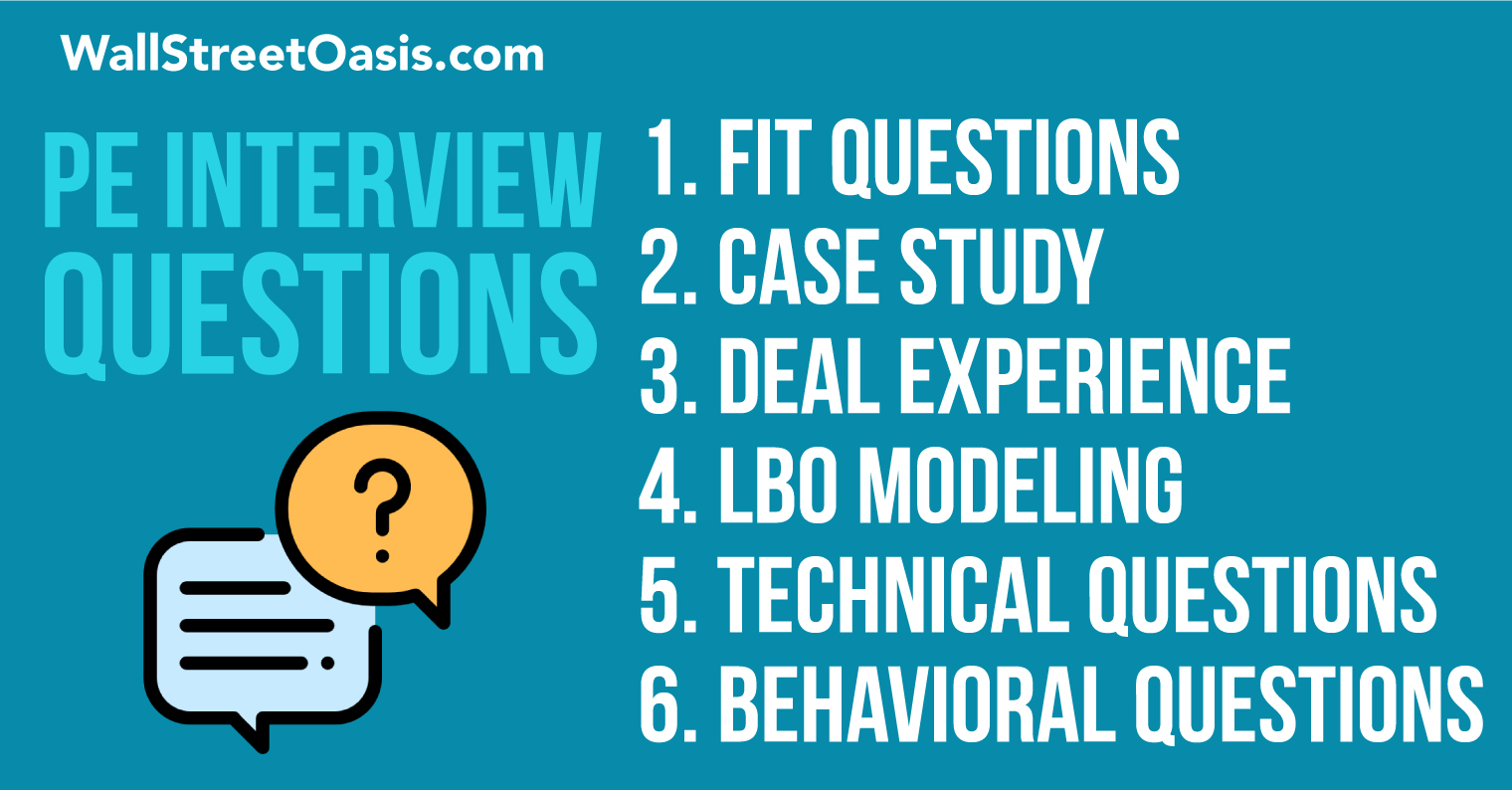 You can expect these types of questions during your private equity interviews:
Fit Questions
Case Study
Deal Experience
LBO Modeling
Technical Questions
Behavioral Questions
You can prepare for every one of these types of questions. If you want to land the coveted position in private equity, then you better be ready to put in the hours to prepare for all of these questions and cases.
Free LBO Modeling Test (Email Form Below Video)
See if you're ready for the real deal. Video solution + modeling file included so you can get realistic practice. Just enter your email in the field below.
private equity interview preparation for Fit Questions
Here are some examples of fit questions:
Why private equity?
Tell me about yourself.
Walk me through your resume.
What makes you a good teammate?
What are your strengths and weaknesses?
All of these questions will pop up invariably as you go through your PE interview, so how do you ace them?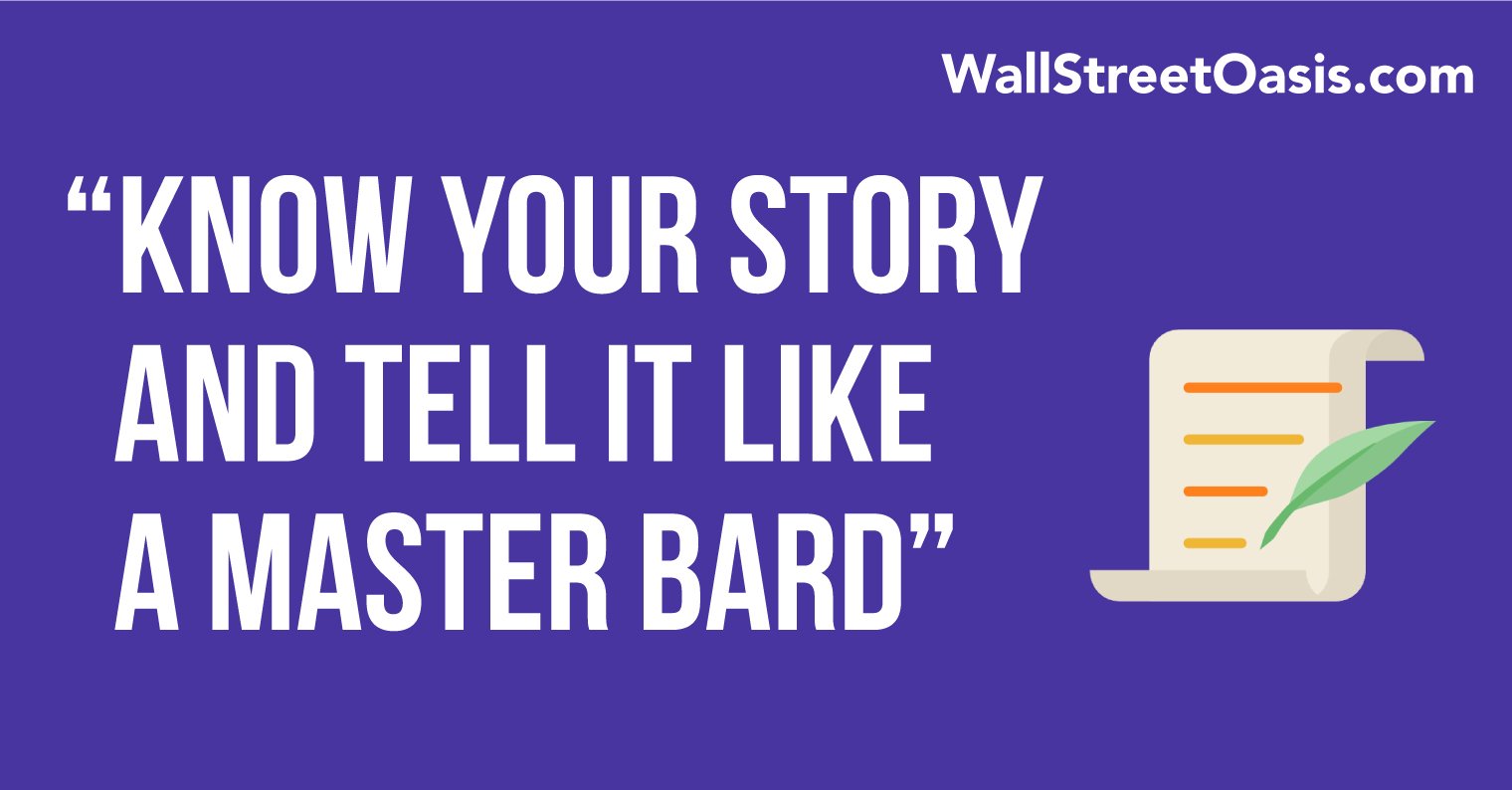 There are two aspects to answering these questions flawlessly. First, know your story and tell it like a master bard. When they ask you about yourself, they're judging whether they would want to work with you. These questions hold serious weight; use them to make yourself a desirable coworker.
Second, have a few backup stories in mind. Stories that effectively portray you as a good teammate, a problem-solver, a go-getter. Have these stories and apply them to whatever the interviewer is asking you. Make sure your resume lines up with these, and check out WSO's free Private Equity Resume Template for more. Tell them with confidence, clarity, and relevance, and you'll be putting yourself in good territory.
Private Equity Case Interview Analysis
This was originally posted by @TheKing". This post has been edited and formatted.
In the large majority of your interviews, you will get asked to walk through a case study. So what is a case study?
While it varies from firm to firm, here's what it generally will look like.
You get a copy of a CIM (Confidential Information Memorandum), usually from an old sell-side process. 
In my interview process, I ended up creating a two-page memo that more or less condensed the important parts of the CIM, analyzed the pros/cons of the business, and included a SWOT analysis.
So how do you ace this aspect of the interview? Remember, you're trying to determine whether or not the target company is a good candidate for a leveraged buyout.
Factors to Consider in the PE Case Interview
Below the OP reviews the factors that you should consider when completing your private equity case study in interviews.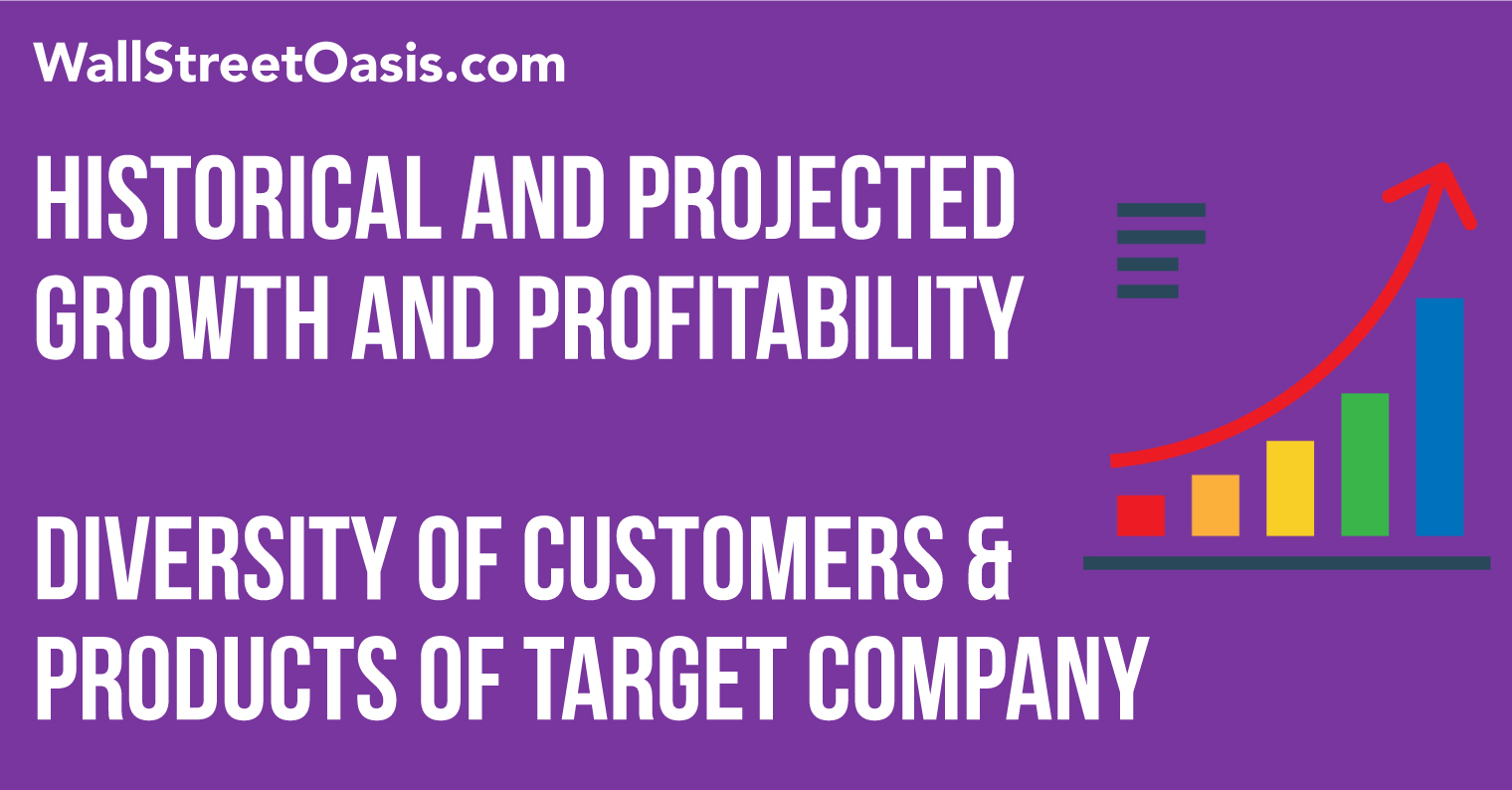 Historical and Projected Growth and Profitability: 

Ensure that the company will be able to handle the additional debt brought on through an LBO while also providing for a strong return on investment through growth in revenue and profitability.

Diversity of Customers & Products of Target Company: A company might have strong financials at first glance, but you'll want to make sure they aren't overly concentrated in one product area or with one customer. If there is any notable concentration, it had better be able to prove that it's got sticky customer relationships, so to speak. 
Differentiating Factors of The Business:This ties in with profitability and customers/ products. Does the target company have specific technology or processes that will enable them to continue to grow and maintain margins going forward or are they susceptible to margin erosion as competition increases?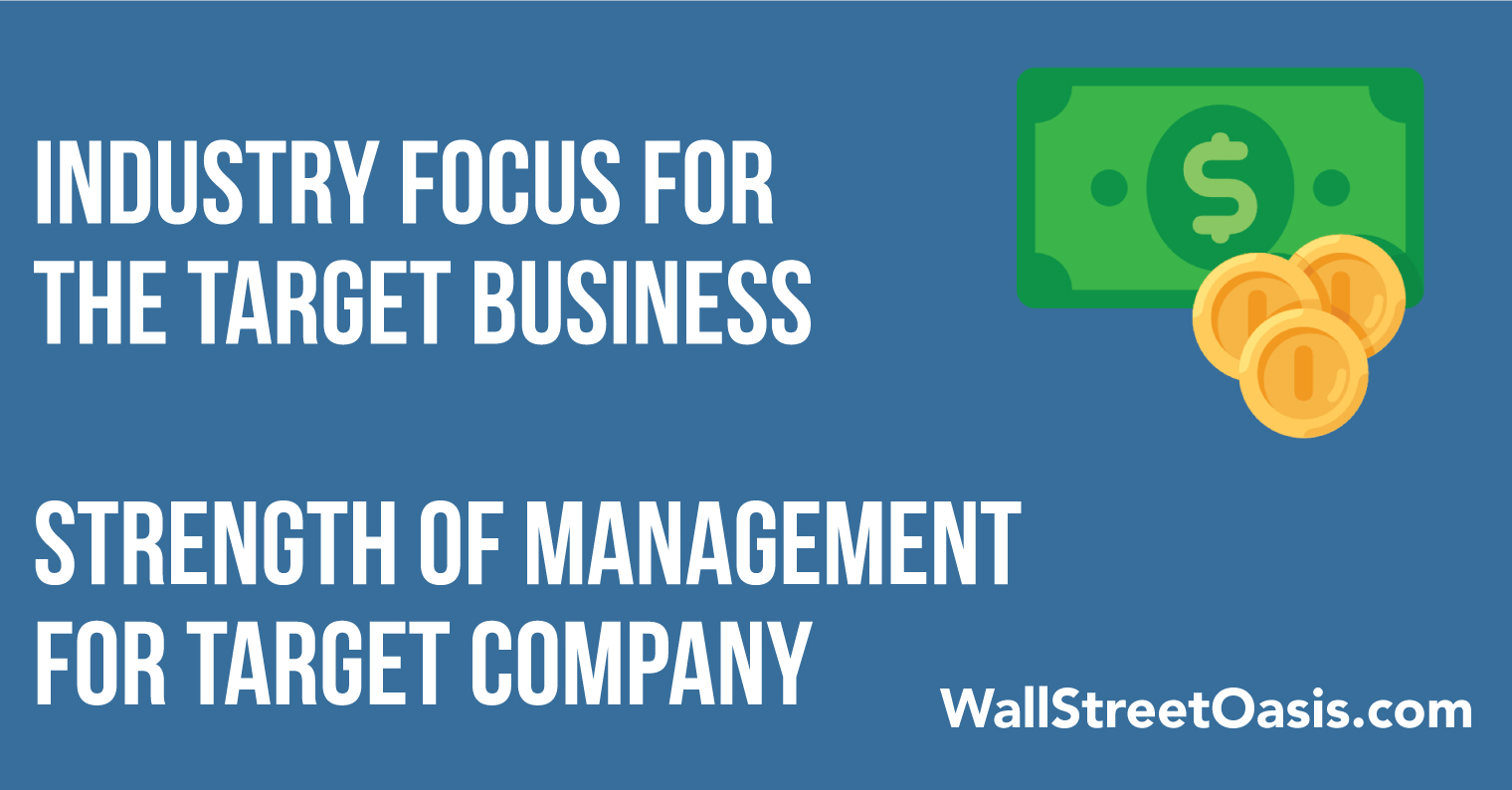 Industry Focus for the Target Business 

Is the company in a growing industry? How will it handle potential economic turmoil? How well is the target positioned in its industry? Is it a leader?

Strength of Management for Target CompanyWhat's the management team like? Is it a founder-owned business? Has the team been together a long time? How built out is the team?

The strength of the management team is very important, and it plays a particularly important role in the middle market. Oftentimes, you'll look at companies with very thin management teams. Or companies with owners who are looking to cash out and take a smaller role in the company going forward. These cases allow a PE firm to potentially add value by placing solid professionals into management roles.

Exit Potential and IRR for Target CompanyA company can be an absolute cash cow, but you'll need to be able to exit the investment at some point over a reasonable time frame (generally five years) in order to generate a suitable return on investment for your investors. You'll want to have some ideas as to where suitable buyers might come from.
Closing QuestionsNow, reading a CIM will get you pretty far. You'll learn a great deal about the target company, its growth prospects, its industries, and its alleged upside potential. The CIM is a sales document. So, while you can glean a ton of useful information from a careful read-through of a CIM, you'll also want to have something of a skeptical eye. Invariably, you'll have questions and concerns that you'd like to raise with management in the next round of the sell-side process.

Here are a few examples of questions you might ask.

What is the biggest challenge your company faces?
Who are the most important members of your team and why?
What are your company's pain points, and how can we help to address them?

This is a great time to come up with specific questions based upon issues you uncovered in your read-through of the CIM.
Private Equity Interview - Deal Experience
This was originally posted by @Candor", a private equity associate. This post has been edited and formatted.
I will say that the three biggest areas to focus on are, first and foremost, the deals on your resume, secondly understanding everything there is to know about an LBO (on a theoretical and conceptual level), and third, being able to walk through paper lbos/case studies. 
In some of my interviews, we got REALLY granular into my deal experience, and it was good that I had prepped so thoroughly. So, you have to know everything about them.
Since deal experience makes up roughly a third of the interview process, preparation is crucial. Read about your deal and understand every facet of it, in order to best prepare yourself for when the questions inevitably come.
Read websites/articles about your deal and take notes. Read initiating coverage reports on the two companies involved in one of your deals. Read comprehensive research reports on the sub-industry that the companies are from.
More PE Interview Questions
For more threads on detailed answers to private equity interview common questions and top-notch answers, check out our Top FAQ page's PE section here.
Interested in Private Equity? Here's What You Need to Break In
Private equity recruiting is ten times more cut-throat than anything you've ever experienced before. If you want to break into private equity, you need to be well-practiced in the technical aspects of the interview.