Goals for 2012
ST
Points)
on 12/27/11 at 7:16am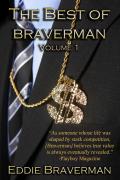 Here we are powering through the last week of 2011, so it's time for the obligatory post about goals for the coming year. As I get older, I seem to disappoint myself more profoundly with each passing year and no matter how low I set the bar, I still manage to limbo under it. Be that as it may, I continue to go through the rueful goal setting exercise that used to mean so much to me that I'd dedicate the full 96-hour Thanksgiving holiday to mapping out the next year.
First, let's go back and see how I did this year. I basically had two goals at the end of last year: to get under 200 pounds and to write The Best of Braverman. I'm gonna go ahead and do the George W. Bush "Mission Accomplished" victory lap on both. I did get down to 200 pounds on the Slow Carb Diet, but when I quit I managed to pile the weight back on. And I did write The Best of Braverman, though I fully intended to have it published in 2011 and fell short on that goal by a few weeks (it'll be out mid-January 2012).
So, on to 2012. My goals are largely the same this year, but my implementation will be a little more structured in the hopes of a more lasting achievement rate. In 2012 I will:
Get under 200 pounds and stay there, and
Write Becoming Braverman, and
Master Java, HTML5, and CSS
I lost the weight last year with almost no effort on the Slow Carb Diet. In other words, I just changed my eating habits and the weight came off, I didn't do any exercise. This time around I'm going to do both, and I'm starting the year with cardio and then moving to weight training. I've signed up for the Paris Half-Marathon in March and I'm going to start training for it next week. After I complete the half marathon I'm going to take a week off of training and then start the Stronglifts 5x5 Program for the subsequent 12 weeks. That'll take me to mid-June, and hopefully when I head to Spain for my summer vacation I won't look like such a disgusting food blister.
Becoming Braverman has sort of come together organically, and I just need to crank it out. It'll be the autobiographical Wall Street story a lot of you guys have been looking for and I'll be going into the specifics of my career and some of the huge mistakes I made and, of course, a ton of the really funny stories. I'm going to do my dead-level best to ensure that it is published in 2012, and I'm cautiously optimistic that I can make it happen by the end of the summer. A good bit of it is already written, so keep your fingers crossed.
As for the programming, that's just something I do to stay sharp. I'm a pretty decent HTML coder, so I just want to get up to speed on HTML5, but my Java skills are sadly lacking. I plan to rectify that this year.
So that's what I'm shooting for in 2012.
Now let's talk about something important.
What are you going to accomplish next year, and how close did you come to your goals in 2011?