J.P. Morgan Winning Women AWM-
I recently had my Superday on this past friday - was wondering if anyone received offers/rejections yet?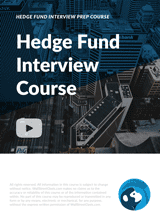 Hedge Fund Interview Course
814 questions across 165 hedge funds. Crowdsourced from over 500,000 members.
11 Detailed Sample Pitches and 10+ hours of video.
Trusted by over 1,000 aspiring hedge fund professionals just like you.
Total Avg Compensation
May 2021 Investment Banking
2nd Year Analyst (110)

$151

Intern/Summer Associate (96)

$145

3rd+ Year Analyst (26)

$145

1st Year Analyst (404)

$131

Intern/Summer Analyst (330)

$82