The impact of height on career?

Points)
on 1/26/11 at 9:53pm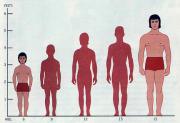 So I am well-groomed, healthy, and in good shape etc.
However, I am 5 foot 5 inches. I know it sounds stupid, but I am worried about height's effect on careers. I know in politics it matters, so I guess I can forget that route.
What is your take on it?