How to Get a Sales and Trading Internship
Subscribe
Sales and Trading Internships - What do you do?
What do you do as a sales and trading intern?

Sales and trading internships are no different from other investment banking internships. There's a whole lot of grunt work in each, and that's to be expected of any finance internship. Because you lack any licenses and any substantial experience going in, you can't contribute much of substance to your firm. However, that doesn't mean you can't add value, especially in terms of cultivating relationships to help land a return offer. Here's @big unit" to summarize what S&T interns do.


Primarily, you just listen, take notes, and update lists of clients, and occasionally do data entry work (sometimes you do simple things with Access, but mostly Excel). You typically are working closely with a couple of the more senior salespeople. You will try to record what products clients are interested in, rates your traders can get them at (usually a range, which is based on volatility etc. but it's pretty much just +-5% target price), and rates in which the clients will buy them.
Getting an S&T Internship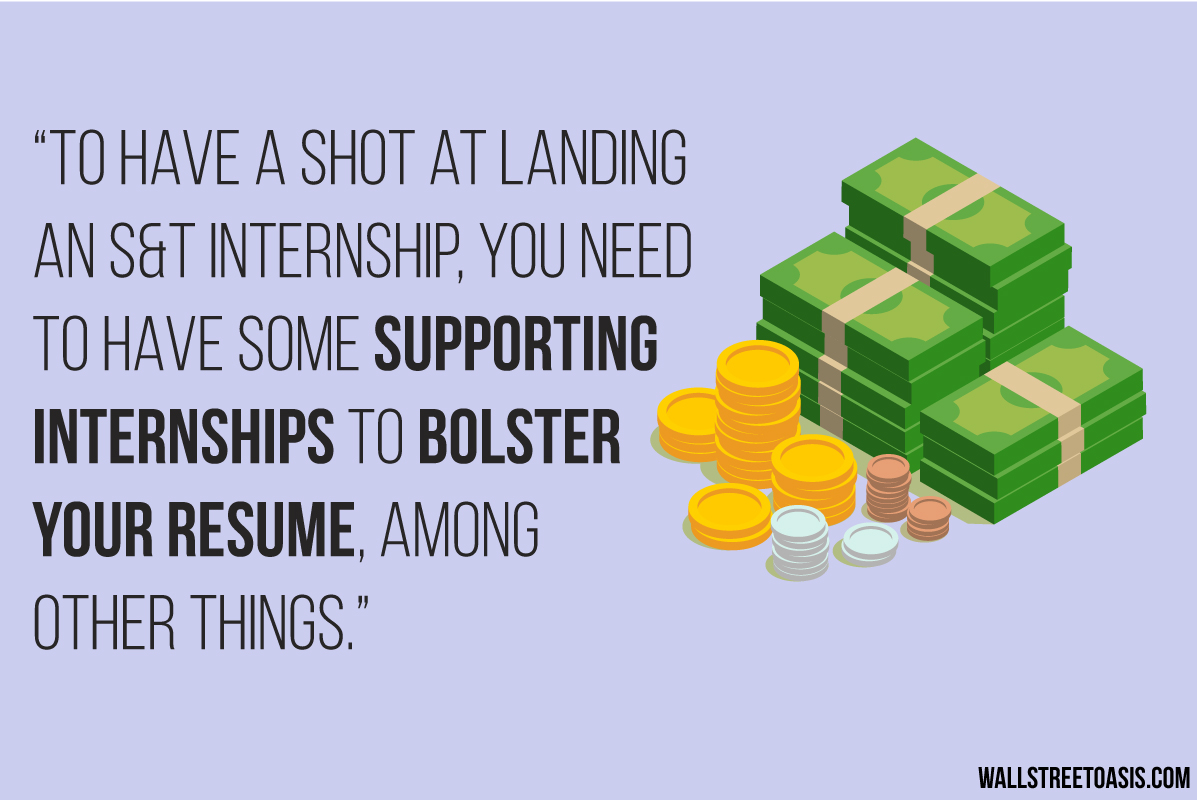 To have a shot at landing an S&T internship, you need to have some supporting internships to bolster your resume, among other things. There are a great deal of internships that do this:
Private wealth management
Private equity
Venture capital
Hedge fund
Investment banking (almost all IB internships pre-junior year are at boutiques)
Consulting
Any one of these, and these are not the only internships that lend pedigree, will tremendously help in getting your foot in the door, whether that be from networking, on-campus recruiting, or resume drops.
So we've discussed reinforcing your resume with internships as a prerequisite to S&T internships, what comes next? The fact is, getting an S&T internship is pretty much the same process as getting any other investment banking internship.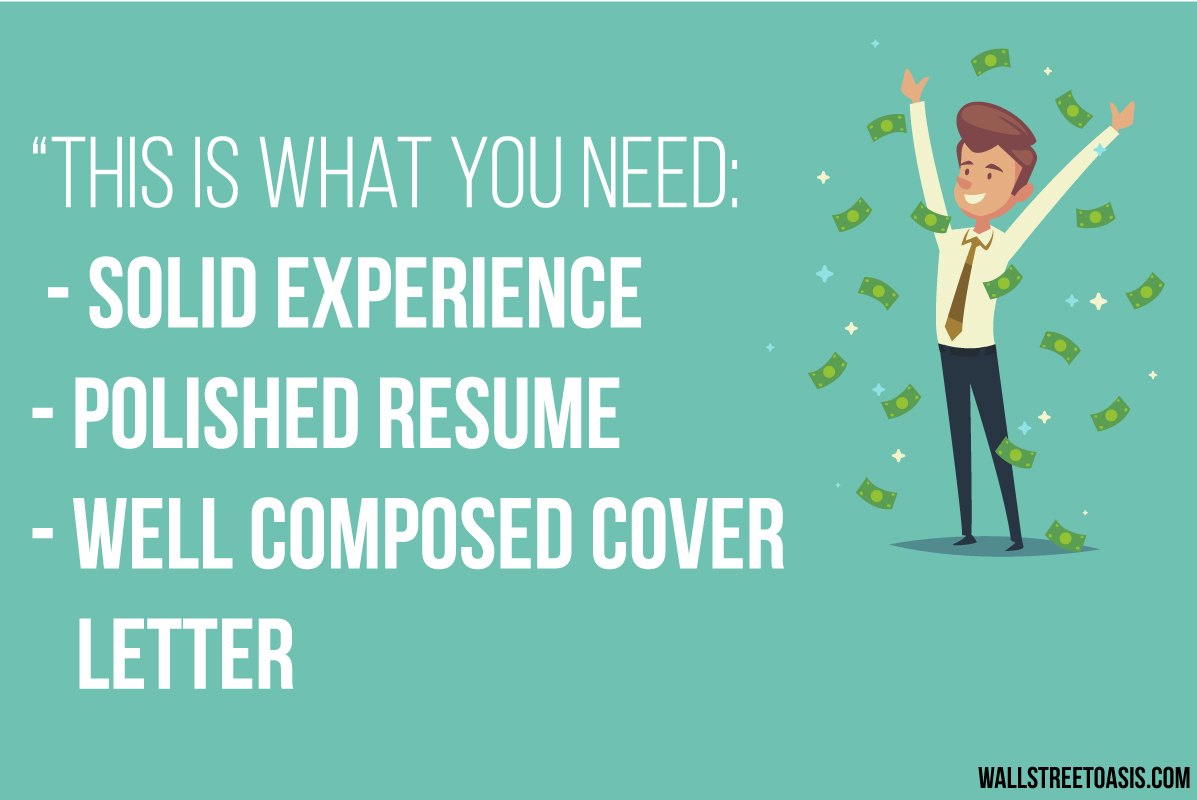 First, you can't get anywhere without a polished resume. Beyond that, make sure you don't mess up the cover letter. If you have solid experience, a polished resume, and a cover letter that checks the box, then you've done everything right up to this point. If you go to a target or semi-target, you should have no problem networking at the very least.
Getting an Interview as a Non-Target
Target and semi-target students have the luxury of on-campus recruiting and resume drops, but how do non-target students get their foot in the door? The short answer: a lot of cold calling and cold emailing. Networking is your greatest power is a non-target, you get your foot in the door with hard fought connections.
Tools
How to get contact information
Zoominfo/data.com are two great sites for getting phone numbers and emails. Both cost money but zoominfo has a free trial. If you don't want to shell out the money for that, then you can use the uniform format banks use (ex: [email protected]) to cold contact. You can find their formats on the web. This won't be as efficient, however, because you won't get access to their direct phone lines which is a helpful aspect of cold contacting.
Content
Cut to the chase, investment bankers are very stressed for their time.
The First Round Interview - S&T and Investment Banking
Here are two critical questions you'll almost invariably get asked in your interview and how to answer them, according to @Marcus_Halberstram".
What is an investment bank?

It's a financial institution that essentially creates markets by connecting buyers and sellers, and risk and capital. At a very high level, there is a sales and trading business and an investment banking business. And from what I understand, the investment banking division is structured into products (e.g. M&A, Leveraged Finance, ECM, DCM) and industries (e.g natural resources, consumer products, financial institutions).
Why this firm?

The answer should be well thought out and as much as possible unique to the bank. What I always did was network within that bank before my interview and regurgitate the same answers I got when I asked my contacts why they joined that bank. Most banks have a few one liners on why they are special... be smart and know how to use those to your advantage. DO NOT read off Goldman Sachs top 10 principles as the reasons you want to work at GS. Do use one of the less cheesy one of those to put in your own words a theme you can say you've observed that sets them apart and makes you want to work there over other banks.
How to Succeed as an S&T Intern
The work of S&T interns isn't exactly sophisticated, but that doesn't mean succeeding as an S&T intern is easy. Here are some do's and don'ts on succeeding as an S&T intern from @derivstrading".
Do's
Don't mess up the lunch order. It seems simple enough, but it's entirely a matter of demonstrating reliability. Until you are trusted, you won't be assigned any tasks of significance. Trust starts with menial tasks like delivery.
Don't ask simple questions that can be learned through google.

When you learned the basic knowledge yourself you can actually have a discussion with the traders on how they run their books, for example what kind of div risk he is running, how he is hedging/managing it. From a traders perspective you will get a lot more points from a 30 min discussion about the persons book than being taught basic things you should have already learned.
One source of office banter is sort of self-deprecating, cracking jokes at the expense of the company in any way. While it's good to get involved in office banter, don't make the mistake of cracking jokes at the company's expense, you're just an intern.
Arrive early, and don't ever be the last one on the desk.
Don't take a seat at the table during a meeting until you're sure every senior person is seated. It's a matter of etiquette that applies to pretty much anything.
Don'ts
Stay humble, just as much a piece of general life advice as much it is intern advice.
Talk to as many people as possible. First of all, you'll gain a better understanding of where you fit best. It'll also give you as much exposure to MDs as possible, which is a critical factor in determining whether you get a return offer. If you leave good impressions on the MDs, you'll be in a great spot to get a FT offer.

[/quote]