Share Your Christmas Party Stories!

ST
)
on 12/21/12 at 2:10am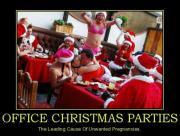 It's the season to be jolly, and some of us take that a little too far sometimes...
So I thought it'd be good to confess, retell and share the stories of vomiting Analysts, passed out MDs and sexy PAs from this festive season's work Christmas parties, or the ones of years gone by.
Two out of three of our work parties have fortunately passed for me so far, with my current wrap sheet looking something like this:
rugby tackling a VP in the middle of the restaurant we'd hired out. I think this happened sometime between pudding and the cheese course
inverting the cheese board onto the lap of the Ops girl who was sitting next to me
thinking that the French have it all wrong and deciding that wine and port should in fact be mixed as wine glass sized shots
I've got one more party left in a country whose language I don't speak, this could be interesting......so far no serious repercussions though, party on!!
.
Highest Ranked Content
<em>Mine is a story with various parts; you can find details on my life as a Big 4 auditor in my AMA <a href="http://www.wallstreetoasis.com/blog/ama-big-4-auditor"><strong>here</strong></a> and my path to final rounds with a PE firm <a...
Lessons From a PE Superday
I am Turtle. 11 items to maximize your human and career potential. I get networking requests from fresh graduates so often, that I wish I could just refer them to this list. I graduated from top-tier undergrad and mba programs, top 3 in both, arguably #1 in both. I started my career on sell...
11 Steps to Becoming a Finance Jedi
So everything comes full circle. I've been coming on this website for 7 years now. It was a huge source of information when I was first learning about the industry. I was super eager and literally read every single post from a few of the contributors that I respected (big shout out to...
Leaving the buyside
At the start of 2008, I was a grain trader with less than one year of full-time experience who, through a series of strange events, found himself as the de facto head of my desk's P&L. Although I had a senior trader who was supposedly in charge, he had brought his own book of business to...
What I Learned From Losing $1.2 Million
In the past few years, more buyside companies are hiring analysts straight out of college, or without 2 full years of ibanking experience. If you are in one of these positions, the 6 tips below might be able to help you. My own experience is more in public markets, so it might not apply as well...
6 useful tips for junior buyside analysts
<em> Mod Note: This comment was posted in rensponse to this post: <a href="http://www.wallstreetoasis.com/forums/help-pissed-in-big-4-audit">HELP- Pissed in Big 4 Audit</a>, received a ton of silver bananas, and deserved to go up on the homepage by itself...
Your job is going to be relatively mindless, repetitive, and dull.
Having entered the working world in <span class='keyword_link'><a href="http://www.wallstreetoasis.com/guide/finance-development-programs-an-overview-of-acclerated-corporate-finance-careers-fldps">corporate finance</a></span> with the plan to try to...
Finding Associate X
<strong>Welcome to The Street</strong> Every single day you work on Wall Street you develop an obsessive compulsive disorder for formatting errors, grammar errors, periods at the ends of bullets… etc. You start to become that Psycho VP or that "Managing Associate" you have...
Attention to Detial Is Overrated
Students around the world: WSO is now accepting applications to be a Campus Rep at your school for the second half of the 2013-14 school year. We are looking for motivated students with a solid work ethic and strong communication skills who are willing to commit for the entire 2013-14 school...
WSO Campus Representative Program
America is not a place without its problems, but there are some things we do better than any other country on Earth. Opportunity has to be at the top of that list. America is one of those rare places where you can truly start with nothing (or with even less than nothing) and become enormously...
Is This a Great Country or What?
Upcoming Events
Mar 14 2014 - 2:00pm - 5:00pm

Mar 15 2014 - 8:00am - Mar 16 2014 - 5:00pm

Mar 15 2014 - 8:00am - Mar 16 2014 - 5:00pm

Mar 20 2014 - 9:00am - Mar 22 2014 - 5:00pm

Mar 20 2014 - 7:30pm - 11:00pm
Recent Jobs
Poll
Silver Banana Rankings
| User | Silver Bananas |
| --- | --- |
| Edmundo Braverman | 1467 |
| TNA | 1381 |
| CompBanker | 1057 |
| IlliniProgrammer | 881 |
| UFOinsider | 832 |
| happypantsmcgee | 822 |
| BlackHat | 749 |
| TheKing | 701 |
| Marcus_Halberstram | 546 |
| rufiolove | 539 |
Top WSO Members
| User | Banana Points |
| --- | --- |
| Edmundo Braverman | 16814 |
| TNA | 15438 |
| WallStreetOasis.com | 13440 |
| UFOinsider | 12341 |
| IlliniProgrammer | 10682 |
| happypantsmcgee | 10306 |
| CompBanker | 9366 |
| AndyLouis | 8261 |
| D M | 6522 |
| BTbanker | 6201 |