Maximizing Sleep

IB
Points)
on 5/10/12 at 6:00am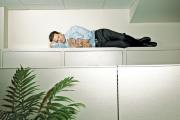 I have spent the past three years trying to maximize my hours of sleep. The banking industry is known for its killer hours and life sucking nature, but the one time you get to eventually check out is when you go to bed. My workflow seems to be out of my hands, but I think I have tweaked my morning routine to get an extra 20 minutes, which is clutch.
I have my mornings down to 7 minutes from alarm to out the door. I always shower the night before, leave my contacts (dailies) at work, have suit ready to go, get my coffee after I get in, and have even gone as far as leaving dry cleaning at my desk so that I can put my dress shirt on when I get to work.
Anyone else have any tips? Also as a side note, V neck under shirt or crew?