Want to be Rich? Read This.
Points)
on 7/14/12 at 12:30am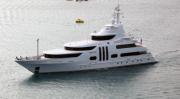 So you want to be rich? I'm talking about yachts, cars, mansions, etc. You want billionaire status but a multimillionaire title will do. Well, if acceptance into the .001% club is your goal than here are some things you need to know.
1) Salary is not going to get you there. This may not apply for the top dogs of Wall Street but the average analyst or broker will not accumulate massive wealth based on salary. For more info read this.
2) Wealth should not be your only goal. Look at John Paulson, one of the greatest hedge fund managers in history. Yeah, his job is all about the money but to Paulson it's more about the game.

Some people like playing chess, some like backgammon. This is like a game, and playing games is fun
3) Take risk. No one made it to the big leagues by playing it safe. Take calculated risks with your career and personal investments and hopefully you will reap the benefits. Two things to consider, starting your own business and long term capital gains.
4) Surround yourself with great people. You can't choose your family but you can choose your friends (this proverb is usually the other way around). Try and associate with people who are moving forward in life; it's tough to achieve greatness when you're anchored down by negative influences.
5) Learn from others. Panos Mourdoukoutas, PhD (Professor of Economics at Long Island University), wrote a great article titled Three Ways to Become Rich-One Way to Live the Good Life. Read the article to understand what Carlos Slim, Bill Gates, and Warren Buffet did to achieve wealth and happiness.
The former is a list of items that should be well understood…if you want that private jet or exotic car collection. For those of us just starting off, including myself, here are some things you can do to set yourself up for success.
1) Find an interest and dive in. Learn as much as you can about something (personal or professional), talk to an expert, and Network! Network! Network!
2) Build an online presence. Start a blog, optimize your LinkedIn profile, build your network, open a Twitter Account, read what's going on in the world, comment on online posts (including this one). For more tips read this.
3) Build creativity. As Emily Heyward of Fast Company says there is tremendous power in cross-pollination. Want to stand out from your peers; start thinking of ways to boost your creativity. Read science fiction, take an art class, or learn an instrument. Take what you learn and develop an association between your newfound creativity and professional life (cross-pollination).
What do you think? Any other items we should add to the list?