Intuitive Explanation of The Levered Beta Formula
I am sorry if this question seem stupid/simple, but still I'd greatly appreciate your help.
levered beta = Unlevered Beta * [1 + (1 - Tax Rate) * Debt / Equity ]
Unlevered Beta = something we see on Yahoo Finance
Could someone please take a shot and explain why we multiply by [1 + (1 - Tax Rate) * Debt / Equity ] and not something else? Was this formula discovered intuitively based on previous finance formulas, or was it more of "This is the law, learn it"?
Levered and Unlevered Beta
The following was originally posted by @Max Margin". The post has been formatted and edited.

First, it is important to understand where unlevered beta falls short in projecting risk. Basically, unlevered(asset) beta represents pure business risk. It does not incorporate financial risk at all, using unlevered beta you pretend that the firm is entirely equity financed, and all cash flows are due only to the equity holder(s).
Say I'm the sole owner of my own large corporation, which has risk equal to the market risk i.e. a beta of exactly 1. The corporation will provide me with the expected return of the market, on the equity which I have invested in it, via the aftertax free cash flows accruing to me. In turn these cash flows are discounted back at the required rate of return (in this case the market return) shall lead us back to the market value of the corporation, lets say its $1000MM, the standard deviations of the cash flows from my corporation will equal that of the market. Remember that this is the case because a beta of 1 means a companies risk is equal to market risk.
What is Levered Beta?
definition from subjectmoney.com
Levered Beta, commonly referred to as "equity beta", is the beta of a firm with financial leverage. The levered beta of a firm is different than the unlevered beta as it changes in positive correlation with the amount of debt a firm has in its financial structure.
Levered Beta Formula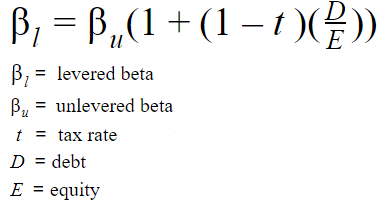 Example of Levered Beta Calculation
Now say I decide to mix up the capital structure, I borrow $500MM in the name of the corporation and pocket it, essentially the corporation now has 500MM of debt on its balance sheet and has bought half my equity stake with the debt ,leading to a D/E ratio of 1. The business risk/unlevered beta/asset beta remains the SAME as it always was, nothing about the corporation's operations have changed. The standard deviations of the operating cash flows are still the SAME. But relative to my equity stake now, the standard deviations of the cash flows are doubled, since my equity stake is twice as small. Again, equity stake is 500MM and debt is 500MM which makes it one to one. So the market risk is 1 plus your debt to equity ratio which also 1. This is where the 1 + D/E comes in, in our case 1+D/E = 2. (we'll get to taxes later)
Another way to think of this is that if half the cash-flows during the life of the corporation are now due to bondholders (debt), then I will demand that the firms expected cash flows must now double in value, for me not to get ripped off.
So if a company is replacing equity with debt or issuing new debt, I expect to get repaid for my equity stake in the case of the former, and expect the company's free cash flows to double in the case of the latter. If beta = 1 then I would expect 2 x market return relative to my stake in the company. The company is actually earning market return (beta = 1) on capital, but relative to where I'm sitting with half the capital, beta = 2 for me because of the change in capital structure (1 + D/E).
Thats why we have betaL = betaU(1 + D/E)
What about (1-T)? from an equity perspective? I will incur inflows from tax savings over the life of the corporation. Since D (debt) is the present value of these cash flows to debt holders, rest assured that (1-T)(D) in taxes will be saved, as long as the corporation retains same capital structure and continues to rollover debt.
Therefore if a company incurs a 1 D/E ratio out of the blue, I will first demand that its free cash flows double, but then I will realize that I will earn (1-T)D in cash over the life of the company, therefore I will demand that its cash flow increase by betaU(1+(1-t)D/E)) , as before we'll set betaU as 1 and t as .35,
we then have 1 + 1 - 1(.35)(1) = 1.65 = BetaL,
Therefore if a company with no debt takes on a debt load with D/E = 1, as an equity holder I will demand free cash flows increase by 2 in the case that interest is NOT tax deductible. On the other hand, I will demand that free cash flows increase by 1.65 in the case that interest is tax deductible!!

Recommended Reading
Preparing for Investment Banking Interviews?
The WSO investment banking interview course is designed by countless professionals with real world experience, tailored to people aspiring to break into the industry. This guide will help you learn how to answer these questions and many, many more.