Equity Research - Interview Questions
Please check out WSO's free Equity Research Interview page for an in-depth guide to acing your ER interview.
Positions in equity research are available for seasoned professionals and new hires. New hires out of school will start as research associates and move up the chain to a research analyst after gaining experience. Before any of this though, you must get the interview and show the interviewers you have what it takes. The best way to prepare for these interviews is to follow the markers, learn the common questions asked and practice tirelessly.

Equity Research Questions - Fit/Behavioral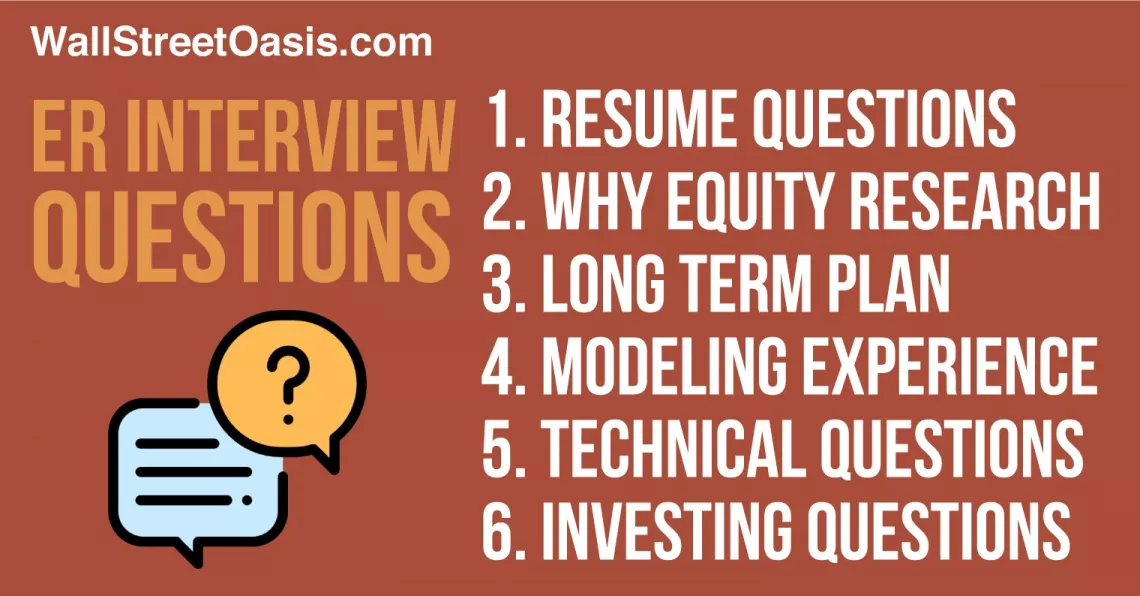 As with most interviews you will most likely start out with the standard set of behavioral questions, some of which are listed below
Tell me about yourself/Walk me through your resume
Why equity research?
Why this firm?
Potential 5-year plan
Tell me about a time when… faced a challenge, worked on a team, etc.
Prepare a handful of anecdotes that you can use and mold to answer a variety of questions. Here's a good tip from @esbanker", a private equity analyst, of things to keep in mind when answering fit questions:
Some key words that should guide your examples for fit questions in Equity Research - analytical, detail oriented, excellent writing skills, strong verbal communication, at ease with financial modelling. Some people tend to think that Equity Research Analysts are mainly 'bookish', but i'd argue that teamwork still plays an important role, especially during earnings season. arguably the most important fit question is why do you want to do equity research as opposed to something more "prestigious" (IB) or "exciting" (S&T).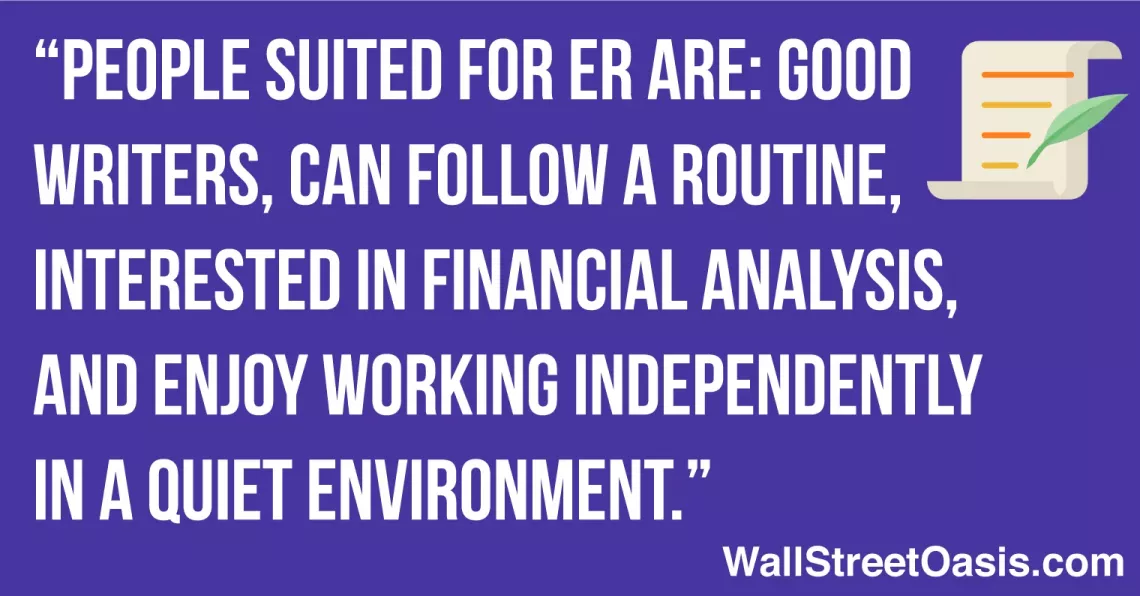 People generally suited for equity research role are those who are good writers, can follow a routine, interested in financial analysis and enjoy working independently in a quiet environment. Obviously you must be familiar with the work that an equity researcher would do such as building financial models, performing industry research, talking with management of companies they follow, and writing the reports.
Techincal Equity Research Questions
Unlike ib interviews, equity research technical questions tend to focus more on actual investing and figuring out your thought processes, but it's best to be prepared for everything.
Pitch me a stock
What do you think about X industry?
What's your investment philosophy?
If you had $X to invest, what would you do with it?
Why might a tech company have a higher PE than a grocery retailer?
Tell me when you would see a company with a high EV/EBITDA multiple but a low PE multiple.
What's beta?
Why would you unlever beta?
Enterprise value vs. equity value?
Can equity value be larger than enterprise value?
Know the major valuation methodologies
Why do some like Warren Buffett prefer EBIT multiples to EBITDA?
How is valuing a resource company (e.g. oil and gas) different from valuing a standard company?
What do you use for the discount rate in a DCF valuation?
How do you calculate the terminal value in a DCF valuation?
Market questions
Answers to most of these can be found online, but for things related to the market it's just a matter of staying up to date. Read the front cover of the WSJ journal and other sources like the FT, subscribe to newsletters you can get daily through email, and always be looking out for new investment ideas that you can bring up in an interview if needed.
Equity Research Associate Interview Questions - The Stock Pitch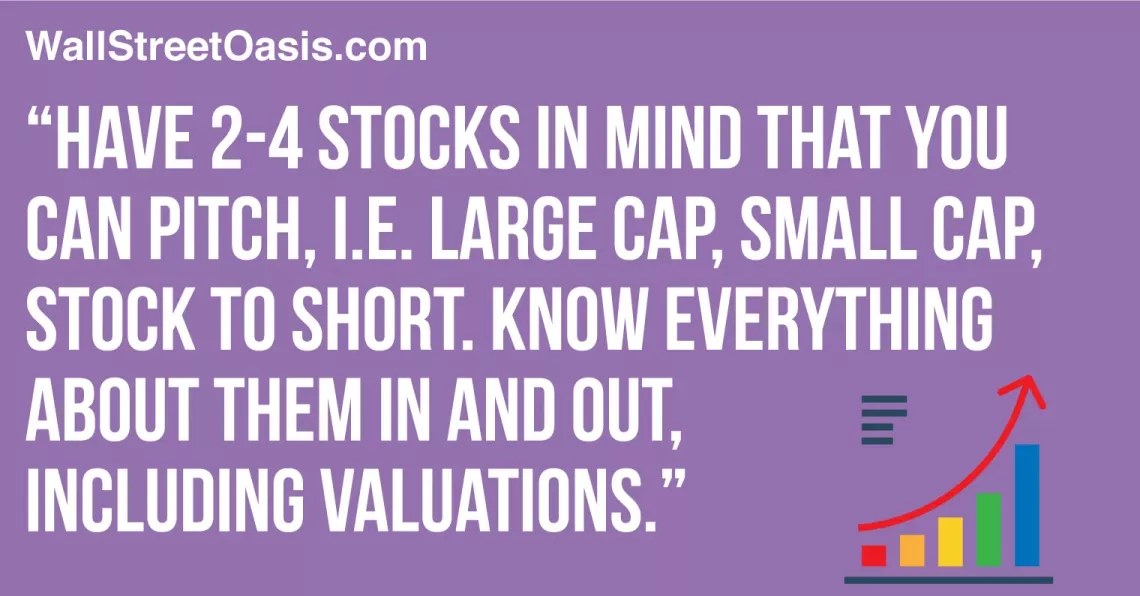 The stock pitch is arguably the most important and most common question you will be asked. It would be best to have 2-4 stocks in mind that you can pitch, i.e. large cap, small cap, stock to short. Know things like the stocks P/E ratio, revenue, ebitda, net income, margins, products, competitive risks, areas of growth, company strengths (brand name, cash supply, management, etc.) Also know basic valuation metrics for the company like EV/EBITDA and have at least 3 solid points that will help support your argument.
Here's a sample stock pitch, courtesy of @esbanker", a private equity associate.

While many airline companies are in desperate need of restructuring, Copa airlines has seen their revenues - now at $1.4 billion - grow at a robust 10% compounded over the last 5 years. Copa boasts EBITDA of approx. $350 MM, Net Income of around $240MM which translates to roughly 18%. Margins have remained stable over the last few years and are significantly greater than other airlines.
After running a basic DCF (5 year projections), Copa has an implied price per share of $xxx. In terms of comps, Copa is trading at an EV/EBITDAR of 7.7x which is slightly less than the industry median of 10.3 x, and a PE ratio of 12.9 x relative to an industry median of 14.1 x. Given Copa's strategic positioning in Latin America, its strong operating and financial performance of late, and its relatively cheap share price, I would strongly recommend to buy Copa Airlines.
(note, some of the numbers are out of date - this is from an early 2011 model)
Well, I've recently been following Copa Airlines, a Panamanian airline company, currently trading at $xx per share. Recently, the airline industry has been underperforming the markets for several reasons: compressed margins from the volatility in oil this year, increased competition from low-cost carriers, and overleverage by most airlines (think American or Air Canada).
Check out a video about the stock pitch below.
Also be sure to check out this thread on S&T interview questions created by @Gekko21": S&T Interview Questions. Most if not all the things in that guide can also be applied to a equity research interview in terms of types of questions and how to prepare.
Read More About Equity Research on WSO
Looking to Break into the Hedge Fund World?
Want to land at an elite hedge fund use our HF Interview Prep Course which includes 814 questions across 165 hedge funds. The WSO Hedge Fund Interview Prep Course has everything you'll ever need to land the most coveted jobs on the buyside.